The Fort Irwin Fire Department held an open house in support of national Fire Prevention Week, Oct. 7.
Families, children, Soldiers and community members attended the occasion at Fort Irwin Fire Station 1 – one of two fires stations here. The community outreach event has been hosted annually for the past 30 years, said Fort Irwin Fire Department Chief Ray Smith.
Fire Prevention Week, which was observed Oct. 4-10 this year, had a theme – "Hear the Beep Where You Sleep, Every Bedroom Needs a Working Smoke Alarm" – that reminded people to check smoke detectors and ensure they are working properly.
"We're focusing on smoke detectors in your bedrooms and outside in your hallways," Smith said. "Smoke detectors save lives. It gives occupants early warning when they're sleeping a chance to get out of the house safely. They need to make sure they test their smoke detectors regularly, make sure they work – if they don't work, [they] need to make sure they get the battery replaced or the detector replaced."
The open house combined fire safety with fun. Firefighters and fire safety prevention specialists facilitated the following activities: simulated cooking fire and how to put it out, water bucket brigade, wearing of fire gear, exit drill from a smoke trailer, fire truck tours, a bounce house and face painting.
Fort Irwin Firefighter Ryan Rinaldo, who has served here 11 years, said it's great to have the community and children, especially, interact with the fire department. Educating the community in fire safety can prevent mishaps. Children got to learn about smoke detectors and what to do in case of a fire.
Stephanie Stevenson, military spouse here, took daughter Abigayle Elam, 6, to the event and agreed that learning about fire safety and the fire department is important for children. She also appreciated and enjoyed the opportunity to mingle with the community (Fort Irwin is her husband's first duty station).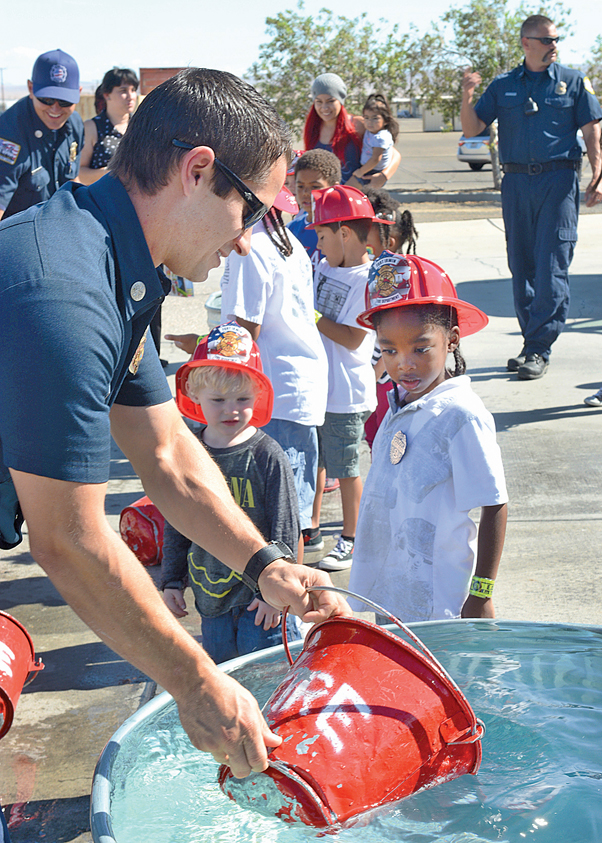 Ryan Rinaldo, Fort Irwin firefighter, starts a bucket brigade activity for children.