The National Training Center was well represented in Barstow's 83rd annual Mardi Gras Parade that unfolded on a mile and a half route down Barstow's East Main Street in the early evening hours of Oct. 24.
The Kiwanis Club-sponsored event drew thousands of Barstow residents who cheered on the hundreds of paraders, floats, vehicles, military and civic leaders, and marchers that included the Silver Valley High School marching band.
While waiting for the parade to start, Fort Irwin United States Army Garrison Commander Col. Scott Taylor said, "I get to ride in the parade that I used to watch many years ago. I remember eating at the Village Café [two blocks away from the parade start] when I came here as a high schooler."
"It's great to be out here in the city of Barstow," said Maj. Gen. Joseph Martin, NTC and Fort Irwin commanding general. "While we have many traditions in the Army, we love sharing in their tradition. We're very excited to be out here. Here you have Soldiers in ASU's, you got multiple vehicles. It's going to be a lot of fun."
Leading the Army deployment from Fort Irwin were 11th Armored Cavalry Regiment's famed horse detachment, followed by NTC's senior leaders and spouses waving from humvees. Soldiers from the 916th Support Brigade dressed in Vietnam-era uniforms were followed by 11th ACR's senior leaders and a company of 11th ACR Soldiers smartly dressed in their blue Army service uniforms. Behind them were a platoon of dismounted 11th ACR Soldiers in combat uniforms in wedge formation, followed by a MRAP (mine resistant ambush protected vehicle), a M3A2 Bradley fighting vehicle, and an OPFOR surrogate vehicle used to simulate enemy infantry fighting vehicle. Bringing up rear of the NTC contingent was the 11th ACR's main battle tank designed to simulate a Russian T-80 main battle tank.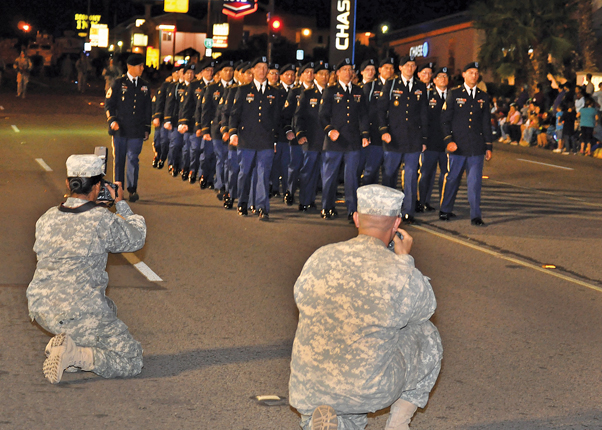 Soldiers of the 11th ACR, in their service uniforms, are photographed by military photographers as they marched down Barstow's Main Street during its Mardi Gras Parade.