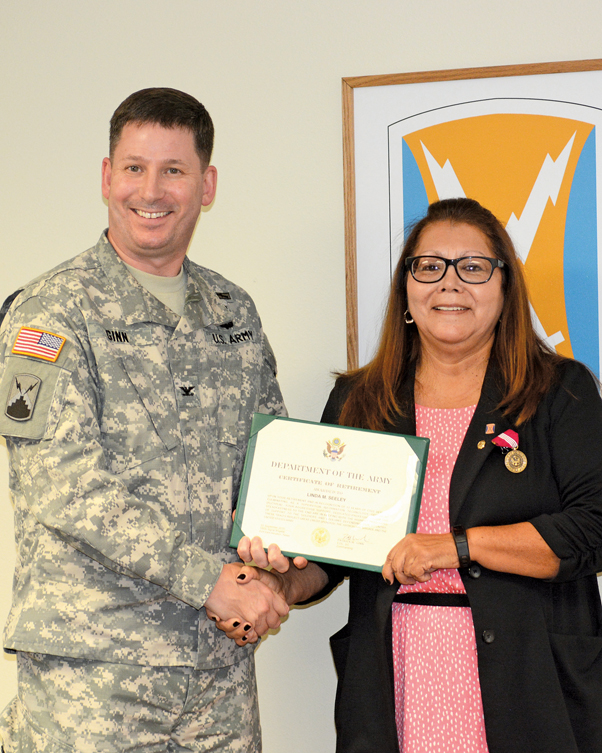 Ronald Reagan was president of the United States.
From the Space Shuttle Challenger, astronaut Kathryn Sullivan became the first American woman to perform a spacewalk.
Apple began selling the Macintosh personal computer in the United States.
And, Linda Seeley started working at the National Training Center.
All of the above took place in 1984, when the NTC was only three years old.
Seeley's 31 years of service to this Army combat training center concluded when she retired from the Department of the Army at Fort Irwin, Sept. 30.
She completed a total of 36 years of federal service, including several as a servicemember.
Seeley was the director of Network Enterprise Center here, the department that keeps the installation connected through computers, classified and unclassified networks, email, mobile equipment and manages security on those systems.
At a ceremony, attended by her colleagues and leadership, Col. Matthew Ruedi – commander of the 916th Support Brigade here – explained that Seeley was at the helm of an organization that is crucial for communicating. If the automation is not working, the communications stops and the work stops, said Ruedi. He presented Seeley with a Commander's Award for Civilian Service.
Col. Patrick Ginn, commander of the 106th Signal Brigade at Fort Sam Houston, Texas, attended the ceremony to present Seeley with a Superior Civilian Service Award and a Certificate of Retirement. He described Seeley's service of a magnitude that is remarkable and outstanding. Her service made an impact on the Soldiers, who come through the NTC to train in defense of the country.
Seeley defined work associations as true friendships and stated that employees are here for the "long haul." She thanked the personnel in her department for their support and expressed appreciation to the community of this installation.
"Thank you from the bottom of my heart," Seeley said.