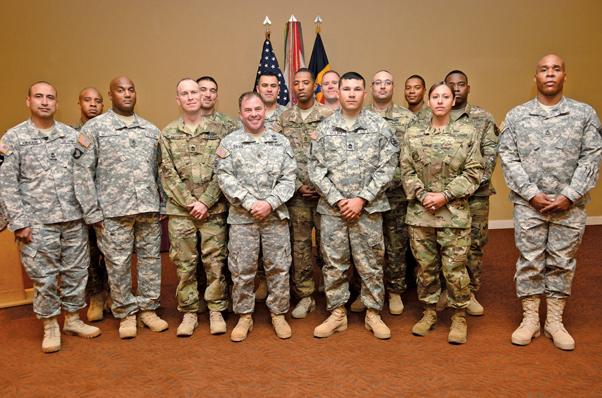 Fifteen non-commissioned officers of the National Training Center and Fort Irwin joined the ranks of Soldiers who have completed the Army's Battle Staff NCO course, Nov. 4.
The graduates took the 22-day course through video teletraining administered by the United States Army Sergeants Major Academy at Fort Bliss, Texas.
The NCOs: Staff Sgt. Joe Acevedo, Sgt. 1st Class Macario Andrade, Sgt. 1st Class Nicolas Baeza, Sgt. 1st Class Paul Befort, Sgt. 1st Class William Davis, Sgt. 1st Class Calvin Hampton, Sgt. 1st Class Lewmans Laurinaitis, Sgt. Jeremy Lindsey, Sgt. 1st Class Rob Molina, Sgt. 1st Class Elligton Releford, Sgt. 1st Class Wendy Talton, Sgt. 1st Class George Warren, Sgt. 1st Class Perry Washington, Sgt. 1st Class Jason White and Sgt. 1st Class Todd Wilson.
The NCOs received their certificates of completion for Battle Staff Course 02-16 from Command Sgt. Maj. Michael Mosites – command sergeant major for 1st Squadron, 11th Armored Cavalry Regiment – who also served as guest speaker at the commencement ceremony here.
Mosites commended the group for academic success in the course and explained the significance of their training.
"They were the only class … out of multiple classes that attended it to achieve a 100 percent graduation rate, with four NCOs finishing in the top 20 percent of all the VTT classes," Mosites said. "The training you have just completed has made you a combat multiplier for any military organization you are part of from this day forward. You now have the opportunity to contribute in the overall operations and success of your units and your [tactical operations center]. You're working to once again to strive to improve the future of today's Army."
Battle Staff provides selected noncommissioned officers with the tools necessary to learn specific staff duties and become familiar with the duties of other staff sections; BSNCOC provides technical and tactical curriculum relevant to the missions, duties, and responsibilities assigned to battle staff members in battalion and brigade-level units (from the U.S. Army Sergeants Major Academy).