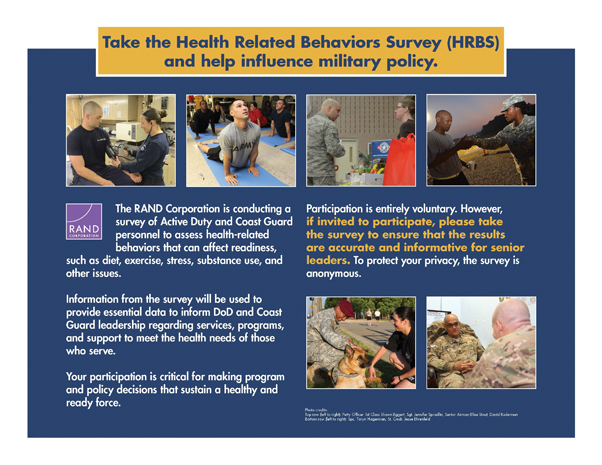 Active duty servicemembers will be randomly selected to represent their service branch and complete an anonymous Health Related Behaviors Survey.
The survey, accessed online, takes about 40 minutes to complete. The HRBS is used to measure health-related behaviors and lifestyles of military personnel that have the potential to impact readiness.
Participation in the survey is entirely voluntary and can be completed using a government computer during duty hours or a home computer with Internet access. To protect privacy, the survey is anonymous; survey takers will not be asked their names or other personal identifiers and responses cannot be linked back to the survey taker.
"Through this survey and the servicemembers' candid responses, our experts are able to uncover those issues that may affect the health and well-being of our servicemembers," said Dr. Jonathon Woodson, assistant secretary for Health Affairs and director, Defense Health Agency.
To protect survey takers' identities, the survey is designed to be completed in one sitting, thus if there is an interruption, the survey will have to be re-taken.
As in past years, a summary report with the survey results will be posted to a Department of Defense Web site in the summer or fall of 2016