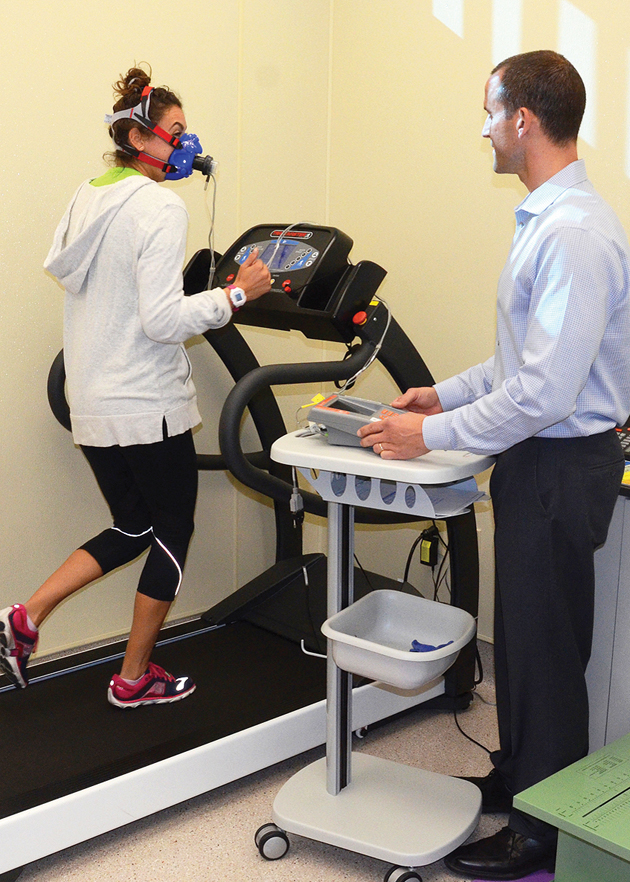 According to current statistics, the bottom 25 percent of the Army has issues meeting required standards or is borderline to meeting them.
Fortunately, the personnel who make up the Fort Irwin Army Wellness Center teams are highly trained, motivated professionals, who can impact Soldier readiness, improve health and help servicemembers to meet – and exceed – those same standards.
The mission focus of the Army Wellness Center, co-located in the Resiliency Center, is first and foremost to increase the readiness of local servicemembers and work to improve the health of the Total Army Family – Soldiers, family members and Department of the Army civilians.
"We get a lot of inquiries from Soldiers who recently become more active, who want to do well on their PT tests, or want to improve their overall health," said AWC Project Lead Andrew Munsterman. "Our staff provides answers and solutions. Our comprehensive and state of the art fitness assessments includes detailed health risk evaluations, blood pressure, resting heart rate, body composition, VO2 (oxygen consumption) max, and strength and flexibility testing."
Mustermann added the best part is that AWC services are free.
"These same tests would cost thousands in the private sector," Mustermann said.
The AWC is in a unique position to leverage all of the benefits the Resiliency Center offers in "The Box" CrossFit gym.
"A lot of people think that cardio is the only way to go to get leaner and lose weight," Mustermann said. "Resistance training helps to burn more calories, lose fat, increase bone density and lower risk factors for disease, and increasing flexibility helps you improve your range of motion, posture and balance."
"The Army is moving from a system of health care that treats illness to one that focuses on prevention and wellness," said Col. Jason Wieman, commander Weed Army Community Hospital. "The Army Performance Triad is proving to be an important key in making that move successful."
The Performance Triad, according to Army Medicine, seeks to create a system of behaviors that will support Soldier performance and overall unit readiness and effect a lifestyle of healthy behaviors not just for Soldiers, but their families as well.
"It's about encouraging and promoting Soldier readiness through a more active, healthy and fulfilling lifestyle where health and fitness occur – how we balance sleep with work, how active we are, and what foods we eat," Wieman said. "The AWCs make that easier for the Soldier."
The AWC is scheduled to incorporate phase two of the Army's Comprehensive Soldier Fitness program beginning May 1, offering Soldiers more tools to stay ready and resilient. The AWC is located in building 127 on Inner Loop Road and First Street; hours are 7:30 a.m. to noon and 1-4 p.m., Monday – Friday. Call 380-7373 to make an appointment.