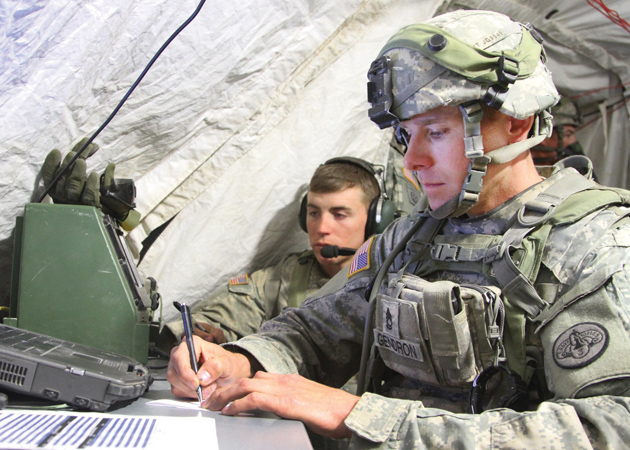 If battlefield operations had to be looked at in terms of the human anatomy, then the TOC would be the brain.
That is according to Capt. Deanna Tran, operational and administrative law attorney for 3rd Cavalry Regiment out of Fort Hood, Texas.
"We [personnel at the TOC] control the whole operational picture like the brain controls the human body," Tran said.
Tran and other Troopers experienced operations in the regimental TOC during 3rd CR's rotation here in February.
A TOC is a command post for all operations on the battlefield and includes a small group of military personnel from different sections who guide several units through tactical missions.
"The TOC is important because it helps manage the fight, and it organizes all of the plans for the lower echelons," Tran said. "It's crucial that the information that's coming from the TOC is accurate, because we are making decisions and providing support to the squadrons."
Some of staff elements in the regimental TOC include administrative, logistics, plans and operations, fires, aviation, intelligence, medical, and legal – among others.
Operations at the TOC never ceased, as Tran and her section stayed busy around the clock.
"We had to provide legal support for the TOC for 24 hours on operational law issues, which included fire missions, internally displaced people missions, detainee operations and non-combatant evacuation operations," she said. "Any type of legal issues that arose in the TOC, we would advise the commander or whoever was making the decision on a situation from a legal standpoint."
Each staff section adds a piece to a much larger puzzle, making every section essential to operations. So, how did the regiment use information from different elements within the TOC?
Sgt. 1st Class Joshua Gendron, operations noncommissioned officer in charge for the regimental TOC, helped to control all of the assets used on the battlefield with the information he received from the staff sections.
Gendron's position is one of many in a TOC; however, when it comes to engaging the enemy on the battlefield, he is the person everyone looks toward.
"I manage all of the war fighting functions to ensure synchronization on the battlefield, so the movement and maneuver element can move successfully to the objective," Gendron said.
Serving in the TOC at the NTC provided a good developmental opportunity, according to Gendron.
"It was a great experience to use the information the other sections provided to coordinate the warfighting functions to maximal effectiveness on the battlefield," he said.
Tran added, "For me, TOC operations at NTC was a great learning experience; it was very interesting to be a part of TOC operations because of all the moving pieces coming together as one."