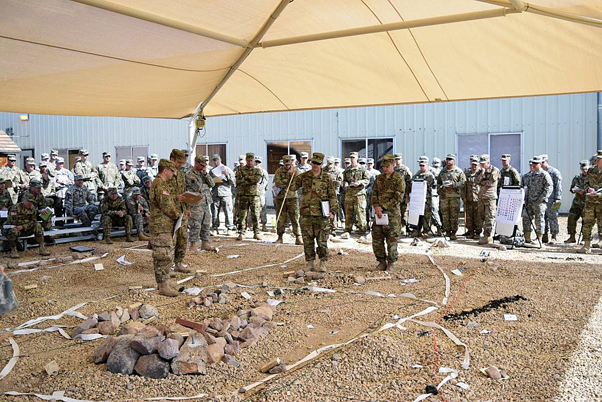 Commanders and staff from the 1st Armored Brigade Combat Team, 1st Infantry Division, traveled from their home station at Fort Riley, Kan., to the National Training Center in late March to conduct leader training before a future rotation here.
"Devil Brigade" commander Col. Timothy Hayden joined 1st ABCT battalion leaders and staff officers who spent eight days at NTC's Leader Training Program cultivating their warfighting skills. The brigade's goals were to identify future training objectives, assess standard operating procedures, enhance the brigade's ability to execute the military decision-making process, and conduct planning.
"We accomplish our mission by leveraging and integrating all the enablers that are coming to us, and we start this by working as a team," Hayden said. "This training is about making us better and making us ready in an expeditionary environment."
The LTP prepares commanders, their staffs and command sergeants major to implement warfighting functions. The Devil Brigade focused on the application of doctrine, tactics, troop-leading procedures, parallel planning and rehearsals.
Retired military personnel staffing the LTP train units by coaching them from receipt of mission through the execution of a tactical mission.
During LTP, the Devil Brigade and battalion headquarters went through the operations process and received input, said Tim Decker, a brigade staff coach.
"Our goal is to prepare the Devil Brigade, regardless of the mission, to have a methodology of approaching and developing a plan that they can prepare and execute," Decker said.
Many supporting and enabling units attended the LTP to plan and synchronize with the brigade for NTC. This coordination allows commanders and brigade staff to employ capabilities that are not often available to the brigade.
Capts. Thomas Maxwell and Robert Busby of Army Cyber Protection Brigade at Fort Gordon, Ga., made up one of those supporting teams. Defensive support teams will be embedded with the Devil Brigade during their NTC rotation to provide additional cyber defense for the Fort Riley unit's systems and networks.
"This small cyber force brings a plethora of knowledge on how to defend the brigade's critical (command and control) nodes and internal network from cyber (opposing forces)," Maxwell said. "I will be the cyber planner and will provide cyber defense support for the 1st ABCT rotation and Busby will provide a DST to provide cyber defense."
Company commanders also received focused training during their time at LTP. That training is broken into multiple training objectives, classroom seminars, field reconnaissance and practical exercises. Areas of focus included company troop-leading procedures, rehearsals and enemy capabilities, according to Mike Pemrick, senior company commander trainer.
"We review breeching and direct fire planning, engagement area development and sustainment," Pemrick added.
Brigade Executive Officer Maj. Erik Peterson led the brigade staff during the planning and execution of the mission at LTP.
The LTP allowed the brigade staff as a whole to conduct the military decision-making process in a controlled environment and enabled coaches to share their knowledge and lessons learned with the staff, said Peterson.
"LTP helped the brigade build a team, and gives us time as a staff as a whole to come together and work together and see people execute their warfighting function," Peterson said. "LTP helps foster relationships within the brigade and builds trust and communication. We will come out stronger in the process."