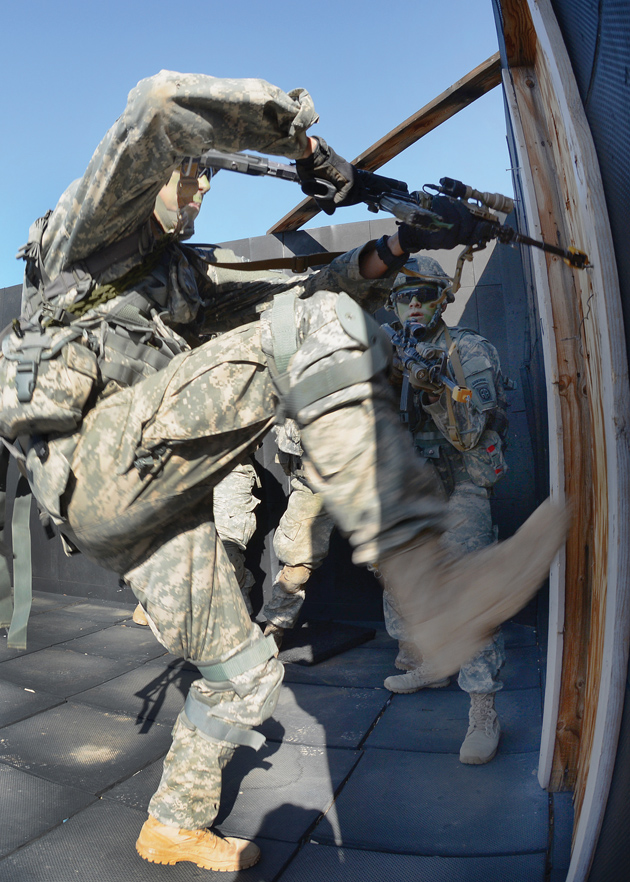 For paratroopers of the U.S. Army's 82nd Airborne Division, a locked door is no obstacle.
To be more specific, when Soldiers of 1st Battalion, 508th Parachute Infantry Regiment, 3rd Brigade Combat Team, 82nd ABN DIV, need to gain entry, they breach doors with explosives and the old fashion way – with a good, hard kick.
The 1-508th PIR did just that and plenty more during training at a live-fire area here in late April. Four companies of the battalion arrived between rotations to take advantage of ranges that allowed the units to conduct company combined arms live-fire exercises with artillery, mortars, AT-4 rockets, .50-caliber machine guns, M240 machine guns, and the expertise and maneuver proficiency of the American paratrooper.
During one live-fire training iteration, Soldiers of B Co., 1-508th INF REG mobilized on foot from forward operating base Reno to the training village Zayeb as 155mm artillery rounds fired by a supporting battery, miles away, impacted hills above the village. After the airborne Soldiers gained positions on a hill, they opened up with machine guns, mortars and sniper fire on targets adjacent the town. They continued maneuvering to the village perimeter, where engineers breached concertina wire with detonating cord. Soon, the paratroopers had entered the compound, going from building to building, room to room, while conducting clearing operations.
Paratroopers operated in squads. Leaders shouted commands and communicated with radios. The Soldiers observed, listened, rushed, bounded, assaulted, established support by fire, shifted fire, pulled security, utilized smoke grenades, and set up hasty defenses. They kicked doors open, shot targets and provided care to their "casualties."
Capt. Daniel Newell, commander of B Company, 1-508th, said many of the individual tasks are easy, but combining them all into one movement is the challenge.
"It's just great training for these guys to see all the moving pieces," Newell said. "[It's] great training for me as a leader to control that, command that, and then a great opportunity for my platoon leaders to really just have to communicate to each other throughout the process."
The company conducted blank ammo and live-fire iterations in the day – all in preparation for exercises in the dark of night.
The 1-508th INF REG commander, Lt. Col. Justin Reese, said several repetitions are conducted to make adjustments and improvements that builds B Company paratroopers' confidence in themselves and the supporting systems that bring combat power to the fight.
"Success is their confidence in their systems and in each other," Reese said. "That's what we're really getting after with the night live-fire exercise."
The company has performed recent rigorous training for team, squad, platoon and battalion levels in different ranges at Fort Stewart, Ga., Fort Bragg, N.C., and Fort Polk, La. The focus is about being ready and supporting the global response capability of the 82nd ABN DIV, said Reese.
"It's about achieving a high level of readiness and that level of readiness includes for us, in a global response mission, the ability to respond on short notice. So, that's weaved into our definition of readiness," the battalion commander said.