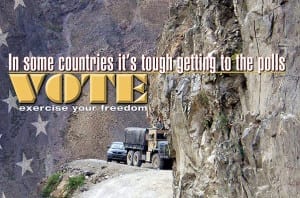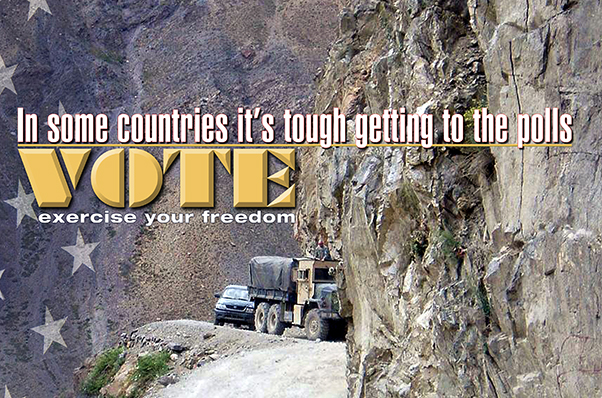 This election season, many Soldiers will face the same crucial question, and it's not necessarily the one you think. It's not, "Who do I vote for?" It's "Can I vote?"
For the many Soldiers stationed overseas or facing deployments, the answer isn't always clear.
In 2014, 69 percent of the active-duty Army was registered to vote, compared to 65 percent of the civilian population, according to a 2014 Federal Voting Assistance Program report to Congress. But when it actually came to voting in the 2014 election, only about 20 percent of active-duty Soldiers did, compared to 42 percent of the general population.
This election season, the Army is making sure that, for Soldiers who do choose to take advantage of the freedom they signed up to defend, the answer is always, "yes." They can cast a vote from wherever they are.
Rachel Gilman, who manages the Army Voting Assistance Program, oversees the more than 3,000 voting assistance officers Army-wide who are dedicated to ensuring Soldiers everywhere have the tools and information they need.
"Our program really focuses on awareness, assistance, providing education, and really training voters about where to go and what information they need," Gilman said.
"Voting is a very personal choice. If they decide to vote, we are there to help them. If somebody wants to make changes on issues that are important in their hometowns and communities, that's what we are there to provide."
Soldiers who want to vote in November should act now, Gilman said. Whether the Soldier is stateside, forward-stationed overseas, or deployed, the way to do that is by seeking out a unit voting assistance officer and then filling out a Federal Post Card Application.
"The (Federal Post Card Application) … that's your form, your go-to form," Gilman said.
Also known as GSA Standard Form 76, the Federal Post Card Application will begin the process of registering a Soldier to vote in his or her correct voting district. It will also inform election officials as to which voting district to send the ballot to. The form is not just for Solders, but for any voter who wants to cast a ballot outside of his or her home district.
To obtain the form, Soldiers can download it from the Federal Voting Assistance Program website at the FVAP.Gov, or visit a voting assistance officer wherever they are stationed.
The voting assistance officer can also help Soldiers determine the state and location of their voting district, information that is required on the Federal Post Card Application. Soldiers can also use the FVAP website to make that determination.
The FVAP.Gov website provides deadlines for registering to vote, requesting a ballot, and mailing a ballot. Each state has different requirements, Gilman said, but kicking off the process now is better than waiting.
"It's really important, especially for overseas voters and those Soldiers who are deployed," she said. "Once they receive their ballot, it's important that they immediately fill it out and send it back due to the mailing time."
The Army doesn't require Soldiers to vote or even register to vote, Gilman said. But she thinks it's important that they do. Preserving the right to vote, she said, is one of the reasons that Soldiers serve in the first place.
"I think it's really important for Soldiers to vote, because it's a freedom they defend," Gilman said. "I think it's an opportunity to have their voices heard. It's important for them if they want to change issues in their communities, their home towns, for their families. I think it's very important that they have their voices heard."