Members of the Fort Irwin WEBELOS Cub Scout pack 67 recently visited the site of the new Weed Army Community Hospital, still under construction, to work on a badge and learn about what is involved in building such a large structure.
The new hospital, scheduled to open in summer 2017, is a joint venture between the U.S. Army Health Facility Planning Agency, the U.S. Army Corps of Engineers and Turner Construction Company.
The WEBELOS (an acronym meaning "We'll be Loyal Scouts"), along with their parents and younger siblings, were invited to the headquarters for an afternoon of learning and playing in the cement — literally.
To kick off the adventure, members of the HFPA and Turner construction team gave a safety briefing, where the boys asked questions such as "What if we find a weapon?" and "What if there is blood?" They were given background information on the different types of careers available as related to the new hospital site. Everything from site superintendent to architect to civil engineer was discussed. They discussed how math and science are related to construction projects, as well as how everything from equipment to people to plants will be moved to the new hospital before it is opened next year.
Then, the boys were invited outside for equipment demonstrations on such things as giant bulldozers and hydraulic boom lifts – equipment used in day-to-day construction operations that most kids don't get to see up-close and personal.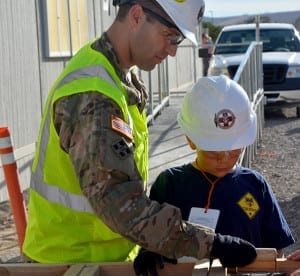 The boys were shown how concrete is made by mixing water and concrete powder in buckets. Finally, they were shown how to set concrete and were allowed the opportunity to place their hand prints and write their names in their very own squares of concrete.
"This was an important event because it allowed us to interact with a group of young people to expose them to various aspects of the construction profession," said Lt. Col. John V. Smith, Program Manager for the Fort Irwin Hospital Replacement Project. "We had great participation from Turner Construction, the Army Corps of Engineers, and MEDCOM personnel. Our intent was for it to be a fun but educational experience for the children, and I think we achieved that. The WEBELOS were very engaged and received hands-on instruction culminating in them building a small project. Hopefully it was a memorable day for them. You never know, we may have sparked the interest of a future architect, engineer, project manager, or master carpenter!"
Smith said the day was a success for not only the WEBELOS in attendance, but the project team members as well.
"Community outreach events like this are also good for the Project Delivery Team because it affords us the opportunity to personally interact with the people we are building this hospital for," he said. "It's also a nice break from our routine on the project site."
Krystal Bray, one of the parents in attendance, echoed the sentiments that the visit was an enjoyable learning experience for the Cub Scouts.
"Fort Irwin may be an Army installation with a smaller housing area, but Cub Scouts Pack 67 have a big impact here," she said. "The nine-and ten-year old boys of Webelos 1 and 2 joined the construction team for the new hospital. The boys were excited to learn about the hospital layout and construction machines. They had the opportunity to earn the Build It and Engineer pins. It was a great experience!"