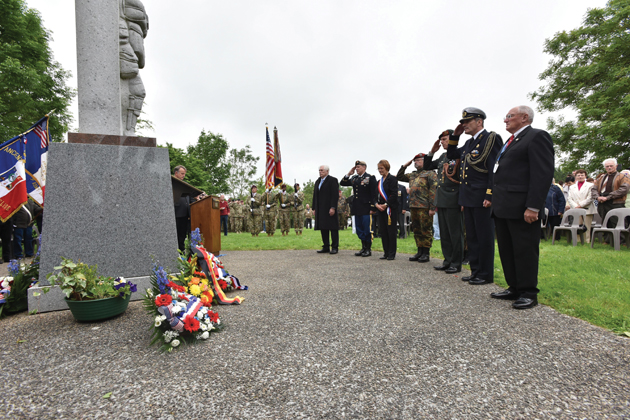 Santa Monica, Calif – The Los Angeles Metropolitan Transportation Authority will honor one of Santa Monica's own by naming a Metro Station in honor of a World War II Medal of Honor recipient.
Joe Gandara was born in Santa Monica, Calif, on April 25, 1924. His family home was located just blocks away from the new 26th street Metro Station, which will be dedicated in his honor. Gandrar lived in Santa Monica until he enlisted in the U.S. Army on Feb. 20, 1943.
After his initial Army training Gandara was assigned to the 507th Parachute Infantry Regiment, 82nd Airborne Division.
The 507 Parachute Infantry Regiment was tasked with seizing bridges over the River Merderet during the allied invasion of France on D-Day. On June 9th, 1944, Gandara's unit came under devastating enemy fire from entrenched German forces in Amfrevillle France.
Gandara advanced under heavy enemy fire, destroying three German machine gun emplacements, allowing his unit to advance and destroy the German defensive positions.
The citation for Pvt. Gandara Medal of Honor reads:
For conspicuous gallantry and intrepidity at the risk of his life above and beyond the call of duty:
Private Joe Gandara distinguished himself by acts of gallantry and intrepidity above and beyond the call of duty while serving with Company D, 2d Battalion, 507th Parachute Infantry Regiment, 17th Airborne Division during combat operations against an armed enemy in Amfreville, France on June 9, 1944. On that day, Private Gandara's detachment came under devastating enemy fire from a strong German force, pinning the men to the ground for a period of four hours. Private Gandara voluntarily advanced alone toward the enemy position. Firing his machinegun from his hip as he moved forward, he destroyed three hostile machineguns before he was fatally wounded. Private Gandara's extraordinary heroism and selflessness at the cost of his own life, above and beyond the call of duty, are in keeping with the highest traditions of military service and reflect great credit upon himself, his unit and the United States Army.