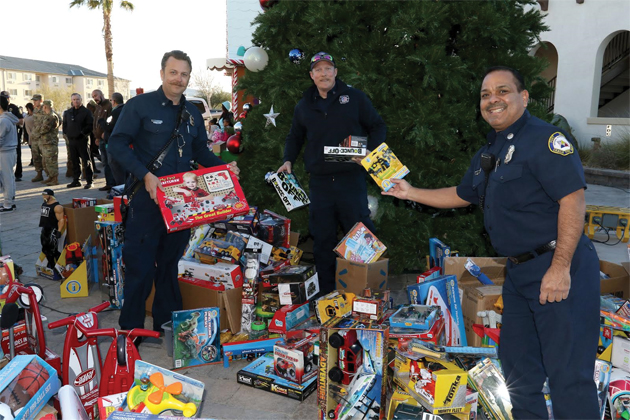 FORT IRWIN, Calif. — Directorate of Emergency Services (DES) put together Christmas in January for Soldiers and families in the Town Center, Jan. 6.
Santa Claus arrived on a firetruck and handed out bicycles, razors, and toys donated by Phil and Mary Leatherman of Extreme Automotive.  Over the last couple years Extreme Automotive has graciously donated children toys boosting morale in the community.
Soldiers and families lined up to see Santa and receive gifts from Santa's elves, members of emergency services.  The toys were organized by age and gender and handed out on a first come basis.  Children filled the town center as they waited to see Santa one last time before he headed back to the North Pole.
Command Sgt. Maj. Randy Cheadle explained, "Emergency services, our fire department and our police department, in coordination with this private organization, is our way of giving back to the community."  "So many times, the police specifically, get a bad name for holding people up at the gate," said CSM Cheadle.  "I want to let them (the community) know that we are here to assist and protect.  We want to try and be the best DES in the Army."