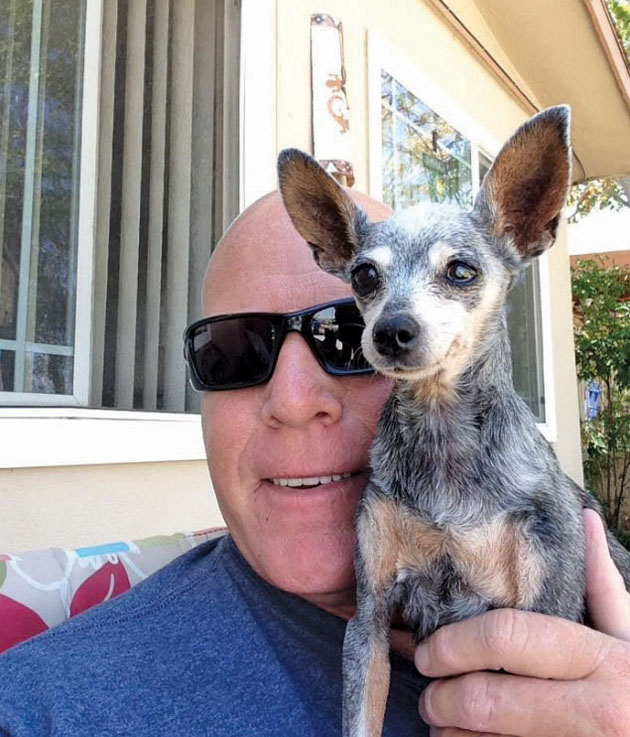 Most pets have caring and loving families that provide safe homes to thrive, however this was not the case for Vinny. A three-year-old, four pound Chihuahua mix, Vinny was literally kicked out of his home onto the streets of Barstow. At that point he was homeless.
Walking his dog and witnessing the abuse was Merrill "Pat" Horne, a Fort Irwin realty specialist with the Directorate of Public Works, in charge of managing U.S. Army land licenses and permits.
"That little dog ran underneath our black lab and said 'come kick me now,'" said Horne.
This was Merrill and Jeanne Horne's first rescue of more than 100 stray animals, spanning over three years and stretching from Barstow to Fort Irwin. When he and his wife of 26 years arrived from West Point, N.Y., they found enjoyment just doing what the locals do, such as antiquing, flea market shopping and when the asphalt ended, they just kept driving exploring the high desert. Those hobbies quickly became less important.
"We saw a great need in Barstow, there were stray dogs all over the place. We started picking them up and taking them to the Barstow Humane Society, it just snowballed from there," said Horne "we got to a point where we were throwing treats at stray dogs in parking lots, it became something to do."
Registering with the Barstow Humane Society has enabled them to care for all the animals they find and creating relationships with other non-profit rescues, has helped provide food and medical care.
"We got word that the Fort Irwin Vet Clinic had a mixed breed Irish setter with a broken leg. So we worked with Forever Young Pomona Rescue to raise funds online to get her surgery, which totaled $4,200," Horne said "after some pins and a couple screws, we were able to get her adopted to a family in Oregon."
As for finding loving homes for the abandoned, they work with animal shelters all over California, but sometimes the adoptive home stretches over several states. To transport the animals, they found it easy using an online based volunteer transport organization called Kindred Hearts Transport Connection. The organization acts as a conduit for moving fostered animals across the United States.
"We had the opportunity to transport a service dog for a military member who was diagnosed with PTSD and now he has a great Pitbull," said Horne "we generally travel 2,000 miles per year, transporting dogs on the weekends to Las Vegas, San Diego and Los Angeles, it makes for a great day out."
The organization is described as a relay transport for animals that need relocation to loving homes, but before the pet reaches their final destination, they often are transported by countless volunteers traveling across country for a good cause.
All this love for the abandoned has not gone without its heartache "We've had a few that have passed living with us and it's hard, we've shed tears, but that dog doesn't deserve to die alone, with no family, no one to love," Horne said "right now we have a 15 year-old Husky with cancer who was abandoned in the middle of the desert, she'll be with us until the end."
Over the countless hours of caring for the abandoned, Horne has learned they all just need "a loving home, somebody to take care of them and take responsibility for them. Every dog deserves that chance to be loved, it just gives us a reason to be here," he said.
Like all dogs the Horne's foster, Vinny who was once homeless and living with fear, now has a loving home and spends most days at their residence pulling himself up to the bird bath for a drink and stirring up play time with the others.
To keep in touch with the Horne's foster conquests, or to help with food donation and supplies, you can reach them on Facebook at "Pat N Jeanne's Desert Oasis of Four Legged Love."