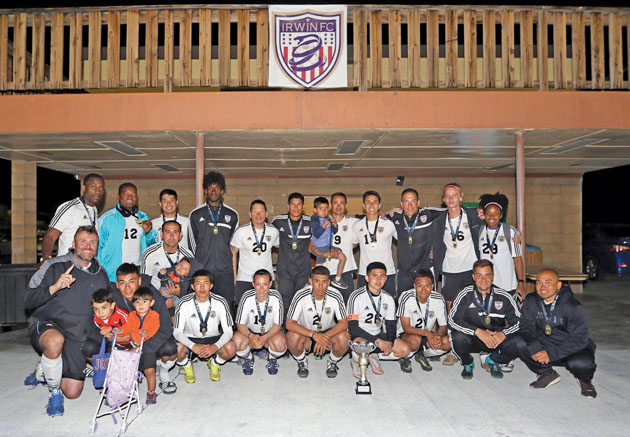 FORT IRWIN, Calif. — For the second year, the Irwin Fútbol Club (FC) competed and won, the High Desert Cup against six other military teams at the blue track, April 15.
The High Desert Cup was put together in 2016 by Joshua Blodgett, Morale Welfare and Recreation Sports Coordinator and head coach for the post soccer team Irwin Fútbol Club.  After winning the Defenders Cup, a National Military soccer tournament held in San Antonio, for two consecutive years in 2014 and 2015 Blodgett decided to host the High Desert Cup here.  "The High Desert Cup will give his player the experience to what they would go through at the defender's cup," he stated.
"Being the first army team to win the defenders cup, and to win back to back, I knew other teams would come to Fort Irwin just to beat them."  In 2016, during their grand opening tournament, one of the teams they played against was the British Cavalry Unit who they won against in the finals.
This year some of the teams that played were Luke Air Force Base and Edward Air Force Base.  After playing against Travis Air Force Base in the semi-finals, Irwin FC advanced to the finals where they played the Marines from Twenty-nine Palms, who they defeated.
Irwin FC is a compilation of active duty, dependents and government civilians.  Up until 2012 it was an all active duty, National Guard and Army Reserve team but since of the location it became hard to keep the roster full.  Blodgett said, "He likes to keep at least twenty five players on the roster and is always recruiting."  He recruited two teenagers from Barstow who wanted better coaching and the chance to compete in tournaments.  Military tournaments require players to be eighteen, however, younger kids can practice like his seventeen year old son.
To find out more about Irwin FC email, Joshua Blodgett, joshua.r.blodgett2.naf@mail.mil.