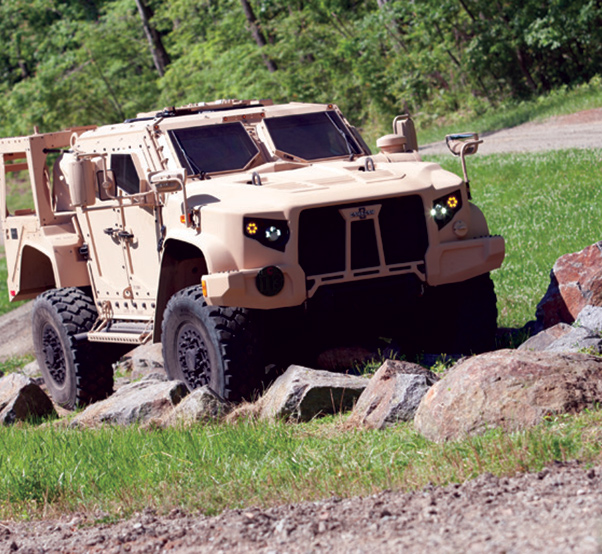 The Army's newest ride has a 340-horsepower diesel engine, a six-speed automatic transmission and seats four comfortably.
It comes with killer options, but the real attraction is its flexibility, Army leaders say. The Joint Light Tactical Vehicle (JLTV) was displayed May 2 at Fort Eustis, Va., attracting a stream of curious on-lookers. That's understandable. Eustis is home to the headquarters of Training and Doctrine Command, which played a role in developing the vehicle that will replace the workhorse Humvee.
The vehicle was transported in from Michigan, home to an Army acquisition organization involved in hundreds of diverse systems, including the JLTV. The group's full name is mouthful: Program Executive Office Combat Support and Combat Service Support.
"This is an opportunity for senior leaders and those who had a hand in the program to understand where it's come to," said Michael D. Clow, director of communications for that organization.
Simply put, the vehicle is designed to handle multiple missions and maneuver in everything from soft sand to hard asphalt thanks to its adjustable controls and ability to accommodate different equipment depending on the mission.
The vehicle was kept from public view on May 2. Security concerns limited the view for media photography. But the JLTV will soon be everywhere.
The Army eventually wants to purchase about 49,000 of the vehicles, and plans to field it by early 2019, Clow said. The Marines Corps is planning to buy about 5,500.
The Humvee served for decades and spawned a civilian model known as the Hummer. Planning for a replacement began 10 years ago as Army leaders determined they needed a stronger, more flexible vehicle to transport soldiers in a war zone.
As the war grew and evolved in Iraq and Afghanistan, the Humvee was asked to do more, said Col. Shane Fullmer, JLTV joint program manager.
The Army added armor to protect it from explosives, but it sacrificed mobility. Its vulnerability to roadside bombs was a big problem.
"We really couldn't protect it the way we wanted to," Fullmer said. "There's not enough space underneath it to do much."
The military then fielded the MRAP, which stands for Mine-Resistant, Ambush-Protected vehicle. It was stronger but heavier, and more difficult to airlift into trouble spots. The military needed something that would protect its soldiers but was light enough to move around via helicopter or cargo plane.
The JLTV strikes that balance, Fullmer said.
It is light enough to be airlifted and squat enough for amphibious transport by Marines. It also has a higher ground clearance than the Humvee to minimize damage from roadside bombs.
Its suspension and tire pressure are easily adjustable, allowing the JLTV to go from sand to asphalt. It can be outfitted with a gunner's mount to accommodate a variety of weapons. The interior is configured for "plug and play" communications and radio equipment for a variety of missions.
"Our theory in this acquisition," said Fullmer, "was to get a very inexpensive base vehicle. Then you can buy a wide variety of kits to scale it."
The JLTV was designed by Oshkosh Defense, which bested Lockheed Martin and AM General, the Humvee's maker, in a three-year competition that ended in 2015. Oshkosh received a $6.7 billion contract in 2015 to produce about 17,000 of the light vehicles.
A single JLTV rolls off the production line at about $253,000, which Fullmer said is an excellent price given the next-generation technology and flexibility built into the platform.
The Army currently has about 100 in hand, Fullmer said, and is testing them at sites throughout the country.
"We think it really restores flexibility to the joint force commander," Fullmer said. "Now we can go places where the Humvee was unable to go."