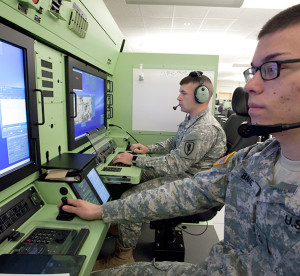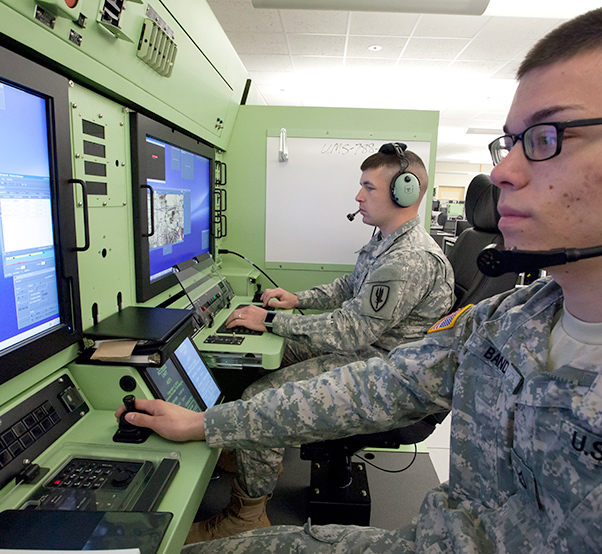 An advanced Army simulator is reducing risks and saving costs at the U.S. Army Aviation and Missile Research, Development, and Engineering Center.
The Universal Mission Simulator is a full simulation training system providing readiness to Gray Eagle and Shadow Unmanned Aircraft Systems flight crews.
The UMS trains UAS flight crews to operate all aspects of the UAS systems including preflight, taxi, launch, flight route to mission area, target area exploitation, weapons employment, return to airfield, landing, taxi, and post flight.
"The Joint Technology Center and Systems Integration Lab, commonly referred to as JSIL, sustains all UMS systems to keep software current with the Gray Eagle and Shadow tactical systems configurations," said UAS Crew Training Simulation Systems Branch Chief, Will Bishop. "The Army incurs lower risks and costs by using the UMS to augment live flight training."
Each UMS consists of an ergonomically accurate mock-up of the Army's Universal Ground Control Station running the tactical ground station operations flight programs in a virtual server environment. The JSIL designed the system for maximum training effectiveness while meeting rigorous fielding schedules and maintaining a long term affordable solution set. The UGCS tactical software is stimulated by the JSIL's integrated simulation environment. The simulation environment consists of JSIL developed software, outside government off-the-shelf software, UAS Original Equipment Manufacturer software, and commercial off-the-shelf software. The mockup platform contains commercially available hardware assemblies and computer systems.
"The JSIL Division has provided the Project Management Office for UAS training solutions for more than 20 years leveraging the jointly funded and government developed Multiple Unified Simulation Environment software suite," said Jim Jones, JSIL technical chief. "The MUSE provides Intelligence, Surveillance, and Reconnaissance simulation capability to combatant commanders for the conduct of command and staff training exercises including Ulchi Freedom Guardian, Auster Challenge, Yama Sakura, Talisman Sabre, and Pacific Sentry."
"This government-developed and -sustained MUSE software baseline is leveraged by the Army, Air Force, and Navy to provide a common and cost effective approach for UAS training simulators," Bishop said. "The software approach is essential to Soldier readiness success. The ability to field accredited training software functionality that matches tactical system upgrades and requirements early enough to train Soldiers prior to tactical system employment is made possible by the UMS architecture. Use of the JSIL simulation coupled with tactical software greatly reduces software development, integration, and test timelines and costs."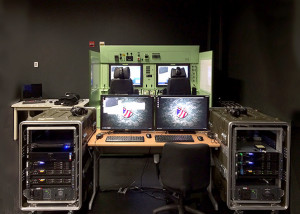 The UMS is accredited by the U.S. Army Aviation Center of Excellence's Directorate of Simulation for initial and proficiency training of both Gray Eagle and Shadow UAS operators. Every software upgrade or change will be re-accredited for Soldier training as the UMS evolves to keep pace with the tactical systems. As of April 2017, the Army uses 84 UMS systems; the USMC currently has four UMS systems for their Shadow UAS training.
The Army will employ 99 UMS by fiscal year 2019 for UAS operator training while the JSIL continues its role in software sustainment and system integration. Field sustainment of the UMS hardware is scheduled for transition to the U.S. Army Program Executive Office for Simulation, Training and Instrumentation in fiscal year 2018.
Editor's note: U.S. Army Aviation and Missile Research, Development, and Engineering Center is operationally aligned to the U.S. Army Aviation and Missile Command, and administratively aligned to the U.S. Army Research, Development and Engineering Command. This joint alignment established a closely woven research, development, acquisition, and sustainment team to provide increased responsiveness to the nation's Warfighters. AMRDEC has the mission to deliver collaborative and innovative aviation and missile capabilities for responsive and cost-effective research, development and life cycle engineering solutions.