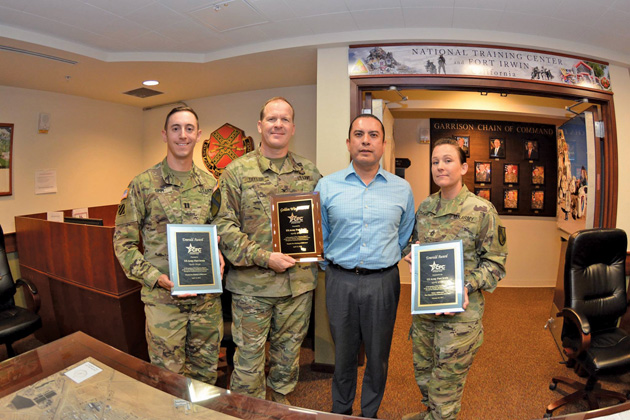 The Combined Federal Campaign of Greater SoCal acknowledged Monday that Fort Irwin Soldiers, Families and civilians are selfless Americans willing to go above and beyond, raising thousands of dollars for charities.
The Installation received an award for finishing tenth place out of 450 federal facilities in the Combined Federal Campaign of Greater SoCal region, raising $87,734.40.
"The coverage area represents over 250 cities in the Southern California area," said Gabriel Argumaniz, CFC Manager "We just want to show our appreciation on behalf of all of the organizations. You all make an impact."
Accepting the token of appreciation was the Garrison Commander, Col. Scott Taylor, Fort Irwin OIC for the Combined Federal Campaign, Cpt. Dan Gimm and NCOIC Sgt. 1st Class Audrey Davis.
"It's an opportunity to give back to our individual charities of our choice and it's an opportunity for leaders to lead by example," said Taylor "One of the Army's values is selfless service and I believe that not only means being in harm's way when called upon, or serving in austere locations, It's also about giving back."