In late November, fierce winds stir up sand storms across the Mojave Desert and obscure the sharp mountain ridges that jut above the horizon.
Somewhere in that forbidding landscape, the powerful and cunning Donovian forces await. It's up to the 1st Armored Brigade Combat Team, 1st Cavalry Division "Ironhorse," to defeat them.
The Ironhorse Brigade, stationed at Fort Hood, Texas, is at the National Training Center for a grueling, month-long rotation that is often described as the Super Bowl of Army training. The brigade faces not only the inhospitable landscape, but also the expert "Donovian" Opposing Force (OPFOR) and a web of rapidly evolving logistical, technical and ethical dilemmas — all happening at once across a massive training area the size of Rhode Island. If that sounds like a worst-case scenario, it's by design, and it tests units in a way no other training experience can.
"There is no better place for Ironhorse Brigade to train on validating our Soldiers, systems and equipment," said Col. Wilson R. Rutherford IV, commander of 1st Armored Brigade Combat Team, 1st Cavalry Division. "It is important we take training rotations, like this one, at NTC seriously in order to become proficient before participating in future missions."
NTC has been the final proving ground for Armored Brigade Combat Teams — the Army's most lethal fighting units — since the 1980s. It remains unique among Army training centers due to a combination of three factors: the sheer size and severity of its desert landscape; a dedicated, professional OPFOR represented by the 11th Armored Cavalry Regiment; and a brigade of expert observers and trainers, called OCTs, who offer coaching and feedback to hone the skills units have acquired at their home stations.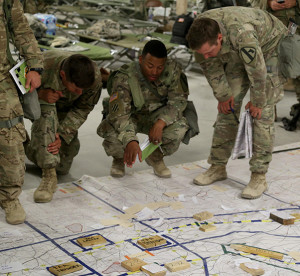 Now more than ever, the sophisticated scenarios replicated at NTC are critical for preparing units to operate in an increasingly complex global security environment.
"What we do know about the next war, well we know it's kind of unknowable," said Brig. Gen. Jeff Broadwater, commanding general of NTC and Fort Irwin. "We know that the enemy's abilities in technology are greatly increasing compared to just five or six years ago. So we have to be prepared for that."
"We have to be able to operate at a level against a peer threat," Broadwater added. "But we still have to keep in mind the population and the counter-insurgency and all those variables that are associated with that."
The Ironhorse Brigade rotation is a prime example. The unit is tasked with helping friendly forces in the fictional country of Atropia beat back an invasion by its powerful and technologically advanced neighbor, Donovia. Within the rotation's first several days, the brigade was forced to contend with nearly constant attacks from Donovian conventional forces such as tanks, airplanes and helicopters. At the same time, it dealt with synchronized chemical attacks, cyberattacks and electronic warfare to disrupt communications.
Over the course of the rotation, the brigade will also confront insurgent forces and criminal networks, civilians displaced by the invasion and, as it regains territory, surrendering Donovian soldiers. All are designed to stress the unit and force leaders to think and adapt.
"We are trying to set conditions where every day at the National Training Center is these staffs', these leaders' worst day," said Maj. Tom Lamb, Chief of Plans for Operations Group at NTC. "It's much better that they face that here than in real combat. We're not taking a chance, so we are just piling it on."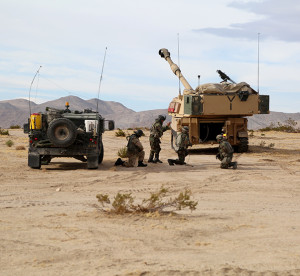 Operations Group begins planning the rotational scenarios nearly a year in advance, conducting extensive research to incorporate the most realistic and up-to-date threats and meeting with senior trainers at the units' home stations.
Still, the script goes only so far. Once a rotation is underway, the decisions made by the rotational unit have real ramifications. A decision to cooperate with Atropian Special Forces, for example, can strain resources but also yield valuable intelligence down the road. And, at all times, the Donovians are a free-thinking OPFOR fighting to win on their own terms.
"We put the unit commanders at all levels here in really difficult positions to make hard decisions, because at all times their combat power is stressed," said Capt. Michael Culler, Plans Team Chief for Plans Team One, which developed the current scenario for the Ironhorse Brigade rotation. "They will never have enough combat power here to do everything that they need to do on a given day. And they have to make hard decisions, prioritize, and fight with what they've got, which is almost never enough."
At times, it can seem as if rotational units have an impossible task. But at the end of the day, all of the challenges are designed with one goal in mind: to make a more lethal unit that can win anytime, anywhere, against any adversary.
"The most important process in this is the after action review," said Lamb. "They will execute a mission, and then we will give them directed feedback, show them what they did — show them what they did right, show them what they did wrong — so the next mission they get, they can get better."