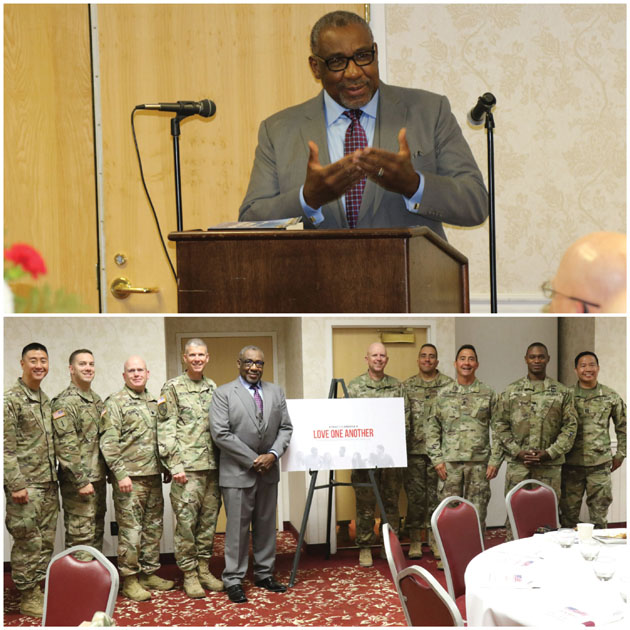 FORT IRWIN, Calif.  — Chaplain Earl A. Smith, team chaplain for the Golden State Warriors and San Francisco 49ers, brought a message of love to a crowd of more than 50 people during Fort Irwin's National Day of Prayer breakfast on May 22.
At the time, he praised his Warriors team who had already secured their spot in the 2018-2019 NBA Finals and were waiting to see who would challenge them between the Milwaukee Bucks and the Toronto Raptors. But Smith used his team to relay his message of "love one another," saying the Warriors were a consistent example of how their acts of love exude on the court and translate into championships.
"When you see what's going on, on the court, it's not just the game you see, it's the fact, the reality, that these guys honestly love one another," he said. "It's not fake and it becomes contagious when you know that you love one another."
Smith said the Warriors have the largest attendees of chapels in the NBA and when the team is together off of the court, they laugh, tell stories and enjoy each other.
"I look and I tell my wife and other people, there's something about those players because I work with all kinds of professional athletes, and there's something unique. When those guys are on the court, they're still together loving one another," Smith said.
On the court, Smith said the players have the ability to "spread the love" and he thinks that has also brought them closer together as a team. He gave an example of when the team noticed shooting guard, Klay Thompson was having a particularly good game.
"Most basketball players, if they get a chance to shoot, they're going to shoot. Our guys were on the court, passing up open shots to get the ball to Klay (Thompson) and Klay has the record for the most points in a quarter because the other guys loved the fact that he had it going and they kept encouraging him to do it because they loved one another– they put themselves aside for the better good of one individual."
Smith also quoted Bible verses and stories during the breakfast, speaking of what he calls 40, powerful words that Jesus said to his disciples that impacted them.
"A new commandment, I give unto you, that you love one another as I have loved you, that you also love one another, by this will you all know, you are my disciples, if you all have loved one another," Smith quoted from the Bible John 13:34.
Smith said some people present an image of love, just for the sake of the image but that's not genuine.
"It's so easy to say things, embrace something and say it's yours for the sake of the crowd," Smith said. "This concept of Phileas, brotherly love, is what they knew but Jesus was saying I need you to move to a higher height. I need you to move up a little higher, because there's a thing I want you to embrace, it's called 'Agape' love and when you get that love, these other things that you've been doing, you'll re-evaluate." Agape love is referred to as self-sacrificing love of God for humanity.
Smith said Jesus only wanted his disciples to be remembered as a group who displayed love to one another as the key to life.
"When reading the Bible, you understand, Jesus has outdone all the other teachers, because they were trying to set up some discipline and rules and direction and He simply says get rid of that stuff and give me your heart," Smith said.
He thanked the audience for their service and commitment to the military, saying his brother served for 26 years and Smith was proud to receive a military coin from a general.
"When I hear the National anthem, when it's time for the Pledge of Allegiance, I think about your sacrifice and I think about all of you," Smith said.
"There was something unique about what you did when you gave a pledge to say 'this country means so much to me, that at a time of volunteer Army, I'm going to sign up.' So when they say 'watchmen what of the night, I can say that I stood on the tower and I was watching,' and I want you to know that is love."
As Smith wrapped up his speech, he told a story of an Army Ranger who was wounded in battle and held a live grenade close to him when it was thrown in his area, surrounded by other soldiers. That soldier saved the lives of the men around him, Smith said, because he was selfless and thinking about those around him and that was love.
"Wherever you go, whatever you do, I would tell you, it's okay to love one another because Jesus said, 'Love one another.'"