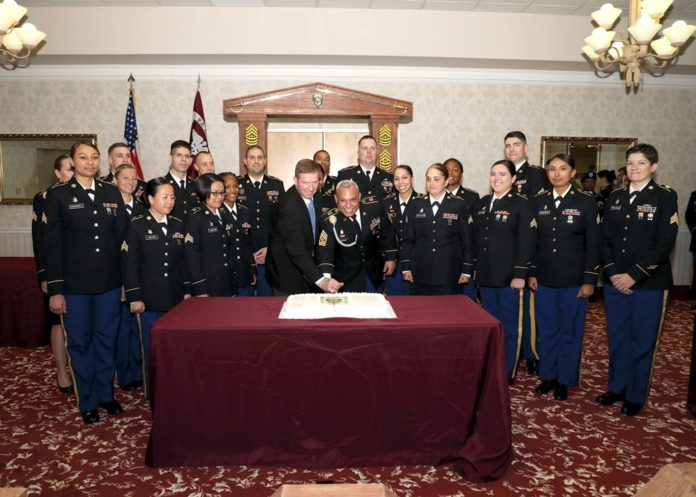 FORT IRWIN, Calif. — Twenty NCOs were inducted on May 9, in a ceremony celebrating the newly promoted joining the ranks of a professional noncommissioned officer corps.
"These outstanding young soldiers are the Army's future" Medcom Command Sgt. Maj. Daniel Santiago said as he shared the importance of recognizing NCOs and their accomplishments with a formal ceremony.
Guest speaker Sgt. Maj. Of the Army (Ret.) Kenneth O. Preston, who served as the 13th Sergeant Major of the Army (SMA), had advice for the newly-inducted NCOs. Speaking to the inductees, he shared a story of his time in Iraq. He said a soldier was injured while airing up a tire, simply because standards were not being enforced.
"Enforcing Army standards, policies and procedures, is the most important job you have as an NCO," Preston said. "Each NCO has the ability to make sure standards are being met. You don't know whose life you can change or save by simply upholding standards."
Following the guest speaker, with their right hands raised, CSM Santiago led the newly-commissioned officers as they took their oaths. The ceremony culminated with a reciting of the NCO creed, which stresses the values of leadership, integrity, professionalism and mission accomplishments.