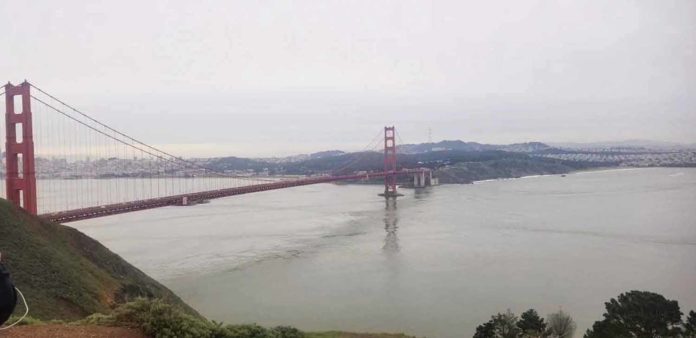 SAN FRANCISCO ­— I've been sharing information about trips and vacations you can try in the High Desert area and beyond. Some trips I've written about are family-oriented, others are solo or ones you can take with your friends, and some are getaways with just you and your significant other. This month, I'm sharing some information from our San Francisco trip during the four-day weekend in February 2019.
Firstly, this was a trip my husband and I made with no kids. We drove to San Francisco and these days, I begin my trip plannings by searching the "Fort Irwin-411 Travel Page" for suggestions.
A hotel recommendation was for the military lodging– Novato Temporary Quarters– for $75/night in Novato, California. We were stayed for two nights only—Thursday and Friday night. The room was a suite-style that included a kitchen. The furniture and shower curtain seemed brand new. It wasn't a bad place for lodging and it was clean but I'm a hotel snob and the outside appearance wasn't great at all. If you're looking for a great deal, their prices are now $65, $75 and $85/night (as of Spring 2019). It's about a 20-minute drive from the heart of San Francisco. Other hotels many people suggest, are the Marine Memorial Club, which was $99 for Thursday, $129 for Friday and $139 for Saturday, with parking priced at $40/day, plus tax (this is with military discount, calling 30 days out from the trip). The Argonaut is also in the heart of downtown. It seemed very nice but was more expensive than the Marine Memorial Club. Those are two great, more modern hotel suggestions, depending on your budget.
Now to touring. I recommend Dylan's Tours if you just want to relax and not worry about planning the trip. It's a private tour bus that takes you on a 6-hour (or 10-hour, if you choose) tour of every, popular site in San Francisco, which was more than a dozen spots. About 15 people total are on the mini tour bus and the driver is always very knowledgeable of the city. It's $110 each ($150 on Groupon and includes Alcatraz) and you visit: China Town, Golden Gate Bridge for photo ops, the LGBT Community, The Painted Ladies (Full House), Several communities and their murals, Billionaire's Row, celebrity homes, Walt Disney Family Museum, Sausalito, Presidio Park, Muir Woods giant eucalyptus trees, views from Helen Diller Park and the popular overlook, cool Haight Ashbury neighborhood, etc. You begin the tour at Fisherman's Warf. My favorite spot on the tour may have been Muir Woods. The huge, Redwood trees we sing about in songs were amazing to view and hike around ("This Land is Your Land"). A reminder, there were no kids on this tour.
Of course we also visited Alcatraz on our second day. There are several sites to order tickets through, but we used AlcatrazCruises.com, pre-ordered our preferred times and paid $38.35 each for our tickets. We followed along on individual audio tours, which was extremely educational and informative. You should plan to carve out at least 3 hours for this tour.
When it comes to parking, on Friday, we paid just $12 for the entire day at a lot at Fisherman's Warf on Beach Street, near Hyde Street Pier before 10a.m. (near either Leavenworth, Jones, Taylor or Mason street). Saturday was a different story. We were told all parking was $40 and $50 on Saturdays. We were running late for our Alcatraz tour, so didn't have time to browse for lower-rated parking and we parked across the street from the boat, at Pier 33/35 for $50. (We forgot to leave our receipt in the windshield and got a $90 fine that we successfully fought but don't forget to leave the ticket visible).
When it came to food, we didn't eat anywhere fancy or try out the fresh seafood (I know, crazy, right?!). We chose a Chinese spot near our hotel. Suggestions from the "Fort Irwin-411 Travel Page" include Tadich Grill, Eight AM, Bubba Gump and Capitol Restaurant, among others.
Here are some other options while you're visiting the home of the Warriors, Giants, 49er's and Raiders: