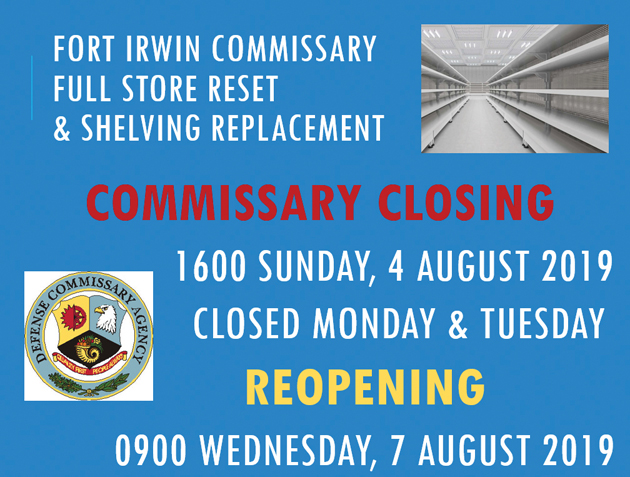 There will be a full Commissary store closure for two days, Aug. 5-6, 2019.. The store is doing a full reset, so the store is scheduled to close early at 4 p.m., Aug. 4, and reopen at 9 a.m., Aug. 7. This will be during block/opportunity leave this summer.
During this time, the 24-hour Shoppette will be open for its normal block leave hours, closing from midnight until 5 a.m. The Post Exchange Main Store will be open 10 a.m.-6 p.m.
These are some exciting, positive changes coming to better serve the community. The Defense Commissary Agency (DeCA) is intent on making the commissary shopping experience faster and easier — making the commissary a desired place to shop every day. One of the commissary's top priorities is to help busy, active-duty shoppers, retirees and family members make a quick run through the commissary, getting home, or back to duty assignments more quickly and efficiently. Therefore, Fort Irwin commissary will undergo a "reset" as part of DeCA's ongoing effort to enhance the shopping experience.
The Fort Irwin Commissary will work diligently to not inconvenience anyone, while resetting the store. However, for safety reasons the store has to close, in order to tear down shelving, build new shelving, and restock.  On the bright side, when the store reopens, historically customers are excited and pleased with the change, proven through increased sales following resets, indicating the user-friendly product flow as a good investment into a better shopping outcome.