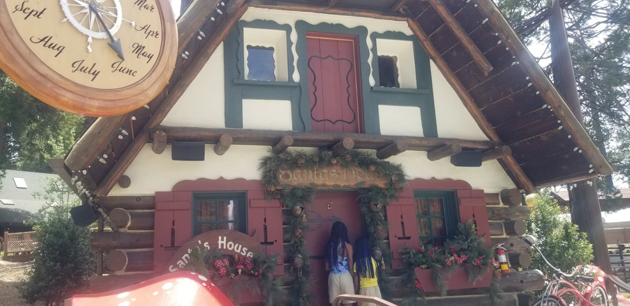 LAKE ARROWWHEAD, Calif. — Our family received a generous invitation to enjoy the Re-Entry Lodge in Lake Arrowhead, California for a weekend and it was surely a treat. One of the Civilian Aides to the Secretary of the Army in California, Bridget Blem, hosts military families at a home at no charge to the guests.
"It's truly been a blessing and an honor for us to offer a bit of enjoyment to their lives, after all they've done for our country," Blem says on her website.
The Re-Entry Lodge opened in 2016 and nearly 200 families from Fort Irwin, Camp Pendleton, Miramar Air Station and Barstow Marine Base have visited to re-acclimate. When we arrived on a Friday afternoon, we were greeted by a couple who hosted us for the weekend. They offered us a Welcome basket, complete with snacks and games, as well as four, special blankets that were personally handmade by a volunteer.
The home has two levels, with a full living room, dining room, bedrooms bathrooms and kitchen on both floors. There is also a jungle gym and swing set combination outside. Our 11 and eight-year-old daughters had their own room and beds/bathroom to themselves.
The host couple were volunteers with Blem's nonprofit "For Families of Active Military" organization and their names were Gary and Judy Guy. They treated us all to pizza at a popular pie spot, Lake Arrowhead Village Pizza, which had beautiful views of the lake as we ate outside. After dinner the first night, our family returned to the home and played with the games they gifted us, included Checkers, Candyland and Life.
The next day (Saturday), the Guys cooked breakfast for us before we visited the popular Skypark Santa's Village, where we had the opportunity to mountain bike, zip line, rock climb, fly fish, roller/ice skate, archery and more. There is a puppet show they announce throughout the day and a nice dessert spot, where we purchased cinnamon rolls. Oh, and even though we visited in June, we were treated to "Christmas in the Summertime," as there was, indeed a man dressed as Santa and an active Santa workshop.
After we spent several hours at the Skypark Santa's Village, we ate at a cute McDonald's restaurant that is housed inside a building that looks like a home, and then went to the Lake Arrowhead Resort to take in all of the pool and lake activities. They sell snow cones and play music by the pool and there's even a Jacuzzi, spa and gym. We went down the steps, where you can reserve a guided two-hour kayaking tour, play in the lake or simply relax lakeside in the beach chairs with the Tiki bar.
After we went back to the lodge to wash up and regroup, we decided to have dinner in the shopping complex on the lake, at a Mexican restaurant named Papagayos. Fortunately there are concerts in the complex during the summer on Friday, Saturday and Sundays nights and we were able to stay awhile to listen and enjoy the live band with the community.
Guests to the lodge can also enjoy hiking trails and personal boat rides on the lake. The host family barbecued and we were welcome to that cuisine, as well. The other shops available in the Villages shopping complex include Starbucks, Stater Brothers, The Malt Shop, Subway, bowling and much more.
Our family left the next morning (Sunday) but not before we had another, delicious breakfast prepared for us by the Guy family. Before we even arrived at the lodge, we completed a questionnaire, requesting our preferences for food and hobbies, as well as allergies. If you haven't been to the mountains of southern California (or anywhere), just be reminded of the many, narrow curves and loops as your drive up and down the mountain. Overall, we'd say our daughters had a blast and it was a much-needed respite getaway for our family to reconnect. You can visit Blem's website, ffamsocal.org for more information about the lodge or to contact her about booking your visit.