FORT IRWIN, Calif.  — On Aug. 16, Command Sgt. Maj. Anthony Walker assumed responsibility of the Blackhorse Regiment as Regimental Command Sergeant Major of the 11th Armored Cavalry Regiment, from Command Sgt. Maj. Nickia P. Haynes. The change of responsibility ceremony was held at Fritz Field, where the entire regiment stood in formation to commemorate Walker taking up the mantle as the 23rd regimental Sergeant Major of 11th ACR. He has held numerous leadership and staff positions throughout his 27 years in the U.S. Army.
Walker is joining the Regiment from the Joint Multinational Readiness Center in Hohenfels, Germany. He expressed his thankfulness for the opportunity to continue in the legacy of the Regiment and his excitement to be a part of the Fort Irwin Community.
"The team here at Fort Irwin has been exceptional: Military Personnel Division, in processing, hospital, (and) everybody," Walker said. "I got that small community feeling and that's the way I like it. It's all about family and I really appreciate what we have going on here."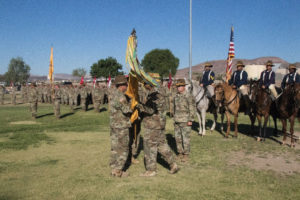 Walker thanked many people at the ceremony, including his family who he thanked for their support in relocating to a new duty station. He also thanked Command Sgt. Maj. (ret.) McCoy, his first squad leader from when he was in the 101st Airborne Division, for teaching him how to be a soldier and leader while enforcing and instilling strict standards of discipline in both garrison and field environments. He then went on to say, "I want to thank the Soldiers I have served with and led, as this employment is about them. Success couldn't be achieved without Soldiers."
In closing, Walker addressed the regiment with his goals for leaders and NCO's.
"To all the leaders in the Regiment: our Soldiers deserve nothing but the best from us. NCO's, at a minimum I expect us to execute these four things on a daily basis: account for our soldiers, lead them during physical training, inspect them to ensure they are always prepared, and get to know our Soldiers on a personal level so that we can observe, change, and provide them with the best possible counseling, coaching, and mentoring. They are our future. Lead, train, win, Allons! Mission first, Soldiers and family always. Blackhorse 7 signing on the net."