FORT IRWIN, Calif.  — A Soldier's success is built on morale and resiliency, which is frequently challenged by the deserts of Fort Irwin. Fortunately, hardworking teams do amazing things. Spearheaded by Chaplain (Cpt.) Ron Marshall of the First Squadron, 11th Armored Cavalry Regiment, the OPFOR at the premier National Training Center (NTC) were given a chance to hone their craft not against other rotational units, but against their own– the best of the best– themselves.
In the mock city, constructed by Hollywood and the Army Corps of Engineers, NTC's OPFOR found themselves ducking, evading, and employing military and urban warfare tactics in their own backyard. Managing and moving 381 Soldiers over two days, with 600 paintball rounds a piece, was a plan with many parts. The 1/11th Unit Ministry Team, R2 Center, Outdoor Rec, FMWR, Warrior Adventure Quest, Range Control, G3, and the Fort Irwin Fire Department collaborated to bring Soldiers a much needed morale-building and memorable training experience.
Finding the right team to manage and plan hundreds of Soldiers in a paintball fight wasn't easy, but the FMWR Outdoor Rec Team had just the group. Outdoor Recreation's Edward Iden and Johnny Jimenez volunteered countless hours to gather all the necessary materials and prepare for the event. When the day came, the safety briefs and equipment distribution went like clockwork.
Finally, 1st Squadron was ready to kick things off. The game was Capture the Flag, the masks were sweaty and the sun was blinding. Paint rounds stung like bees and the urban environment made hitting your target that much more difficult.  Nevertheless, as long as their battle buddies had them covered, the troops continued to push forward, refusing to give up until the opposing teams flag was theirs. When operations started to slow down, the staff adapted and changed the game to search-and-destroy. No respawns, no refills, no rest: teams succeeded as long as they worked together, a valuable lesson in combat.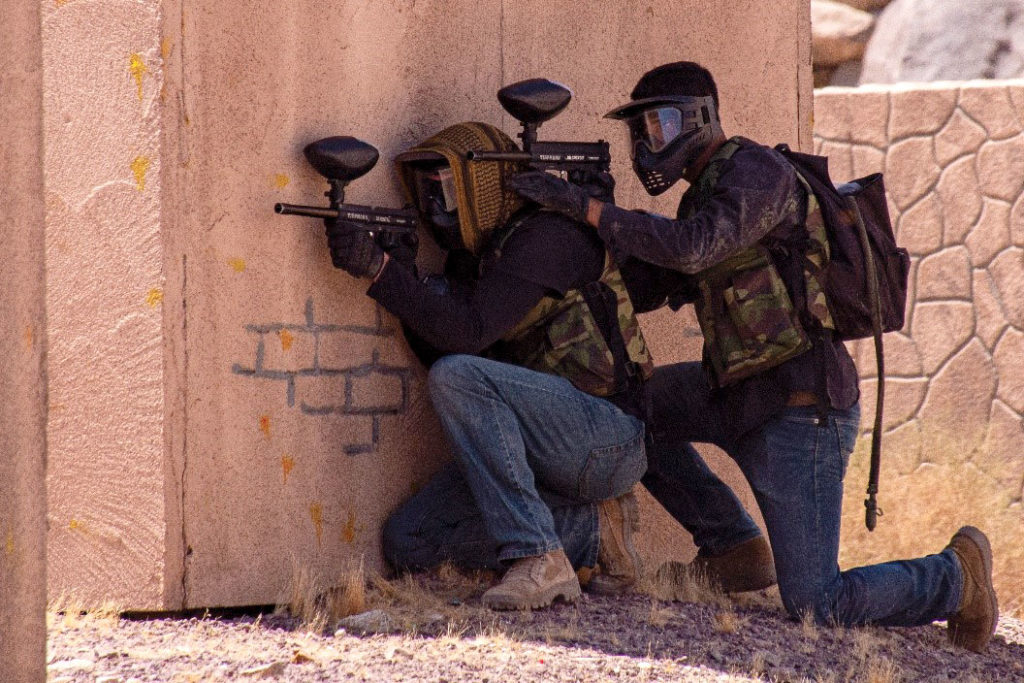 Leadership supplied fresh food while the R2 Center and Unit Ministry Team taught great resiliency training.  There was, however, one final obstacle to overcome– the one thing that every Soldier knows must happen and wishes they could skip. Razish, a town of 50-plus structures that had been hit with more than 340,000 paintballs, had to be scrubbed clean.
A messy, time-consuming process that would have been a headache if not for our heroes: the Fort Irwin Fire Department. Marshall asked them to help for an hour, however, they generously volunteered to stay far longer and help hose-down the city.  A special note to the anonymous Range Control member who drove over six kilometers just to let us utilize his power washer to assist in the clean-up effort.
The event proved to be an amazing opportunity for troopers to come together and have a little fun; and come away with important lessons and a fresh new look on resiliency in the Army.