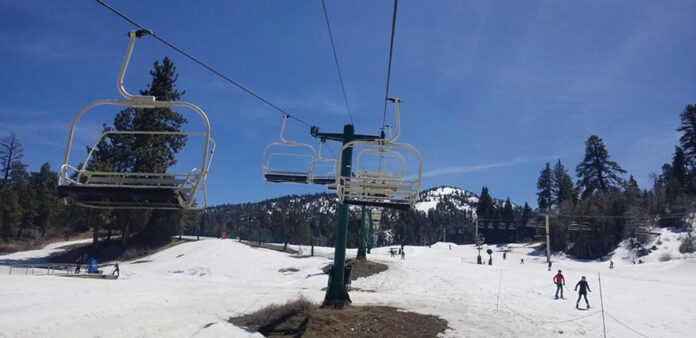 BIG BEAR, Calif. — The winter, holiday months are a time when many think about hitting the slopes. Of course you have the options of Lake Tahoe, NV or Mammoth Mountain but if you want to stay a little closer, the Big Bear Mountain Resort is another option. I decided to go up and try out a few attractions before taking the family.
This season, skiing at Snow Summit began on Thanksgiving Day and Big Bear opened the following Friday. Turns out, I chose the perfect weekend to go at the end of last snow season —it was the weekend of April 6th, 2019— which was the last weekend of ski season in Big Bear. The weather was great, so many people had already started headed to beaches around that time of year, so the slopes weren't as crowded as usual.
Before I took the hour and 45 minute trip to the mountains, I called around for the best ski rental prices. Bear Valley Ski and Board Shop was recommended for good prices regarding apparel and equipment, but I ultimately decided to go with our own, Fort Irwin, Outdoor Recreation shop. I did a three-day ski equipment rental for $17. Since I'm a novice at skiing, I took note that the instructor says I need a 115 (46 inch) ski pole. Since the weather was so nice, I did not buy a snow suit, although I definitely should've worn my water-resistant apparel for the (very few) times I fell.
Heading up the winding mountain roads wasn't that bad, in my opinion, but there are those who fear driving up the narrow, curvy roads of the mountain. Since this was the end of the snow season, no chains were required on my vehicle tires, due to lack of precipitation. It's a good idea to call and check ahead on what's needed, though. The City of Big Bear has a population of about 4,000 people and an elevation of 4,754. Some say that the Big Bear mountains have more terrain parks (jumps and crazy obstacles), while Snow Summit is another option in that area that is more family friendly, with smaller slopes.
Once I arrived, I parked right across the street from the ticket office and resort for no fee. There are complimentary shuttles available if guests have to park farther away, though. I went to the ticket office to buy a package deal of a ski lift and lesson. I paid $106. Big Bear offers a 25 percent military discount to active and retired service members but you only get that price in person once you pay at the ticket counter, showing proof of military identification. If you call three days ahead to book your adventure, you receive a 20 percent discount. Big Bear and Snow Summit also offer a 20-25 percent military discount for those who buy season passes.
After I bought my tickets, I headed to the lockers to put away my valuables, slide on my skis and head to the slopes. The lessons include ski and snowboard private ones for all ages, lessons broken down into different age ranges and even night-session lessons.
When it comes to the slopes, of course there are bunny slopes, and advancing levels you can try. Don't forget, there's also tubing and a couple of spots to eat, near the rental location. You can check out the calendar on the Big Bear website to find out about different events happening at the mountains, including their SnowJam sessions, ski expos, holiday sessions, movies, kid camps and cyber sales. I even got to witness an engagement that included more than dozen people, just before I started skiing!
Fortunately, there was still real snow on the grounds, even in April, so fake snow was not needed (although they had it on hand). There were people saying they literally had on bikinis under their snow suit, because it got so hot!
I met some great people while taking my private lesson. The instructor worked with myself and one other guest and we advanced to two, other levels during our two-hour session. As I mentioned earlier, since it was hot and I didn't plan on falling, I didn't wear a ski suit but I definitely should have at least worn water-resistant clothing. I didn't plan on conquering some of my fears of the higher, steeper slopes but had fun trying to…and falling a couple of times!
I hear and see so many people ask about the other options in Big Bear and Snow Summit. I always point to the "Fort Irwin 411 Travel Page" on Facebook for great advice. You can also visit the main Big Bear website, bigbearmountainresort.com, and they have an option for you to click on to plan a trip.
Other options around Big Bear include the Alpine Slide at Magic Mountain, Big Bear Lake Village downtown and the Big Bear Pirate Ship. There's also the Marina Resort Lake Front where you can check rent kayaks, pontoons, etc. Some visitors enjoy Kings Canyon National Park, which shares a border, as well as horseback riding. There is a nature center (at the main ranger station), lakefront beach, dog trail walk, chairlift to top of mountain, short hike with waterfall, and don't forget the chocolate shop in the Village.
I've mentioned a few prices on rentals and package tickets but there's also the Alpine Slide, which is $6 per ride or you can get a five-punch pass for $25. You have to be 48" to ride alone and there is also a water slide and mini golf and go carts.
Shops and restaurants that have been highly recommended (and most offer military discounts) are The Copper Q, Peppercorn Grille in the Village (specifically the calamari), Oakside Restaurant, Pines Lakefront, Fire Rock Burgers & Brews, Masala Craft Indian Cuisine, Amangela's Sandwich and Bagel House, Saucy Mamas, Grill and Chill, Bone-Side Down BBQ, Himalayan Restaurant, Sonora Cantina Mexican Restaurant, Teddy Bear Restaurant, Old Country Inn, Grizzly's Bear Belly Deli and Grizzly Manor Café, just to name a few. Unfortunately, since I only did a short, day trip, I didn't get to try any of these spots, but will definitely try a few when I take the family back up there.
Lastly, the biggest question that is asked is about lodging accommodations. I did not stay overnight on this trip, but we're looking to stay overnight on our next trip. Here are the suggestions to check:
• AirBNBs
• Big BearMountainResort.com
• Robin Hood Vacation Rental: robinhoodresorts.com
• Holiday Inn
• MCSCMiramar.com/big-bear-cabins for cabins
• There's a Marine Corps campground in Big Bear.
• Vrbo.com/Big_Bear/Vacation-Cabin
• Vrbo.com/Big_Bear/Rentals
I hope this mini tour guide can help you, whether it's your first or fourth trip to this beautiful mountains resort. Below are phone numbers, websites and prices that I hope will also make your vacation planning a bit easier.
Big Bear main website: Bigbearmountainresort.com
Big Bear Customer Service: 844.GO2.BEAR (844-462-2327)
NTC/Fort Irwin Outdoor Rec: 760-380-4327
NTC/Fort Irwin Outdoor Rec Rental Pricing Website:
https://irwin.armymwr.com/application/files/5215/4047/9715/ODR_Rental_Prices_Brochure_June_2018.pdf
NTC/Fort Irwin Outdoor Rec pricing:
• Children's ski set: $15 for a 3-day rental and $38 for a 7-day rental
• Adult ski set: $17 for a 3-day rental and $43 for a 7-day rental. There are also snowboard rental prices
• You can also rent kayaks and jet skis and other equipment from Outdoor Rec