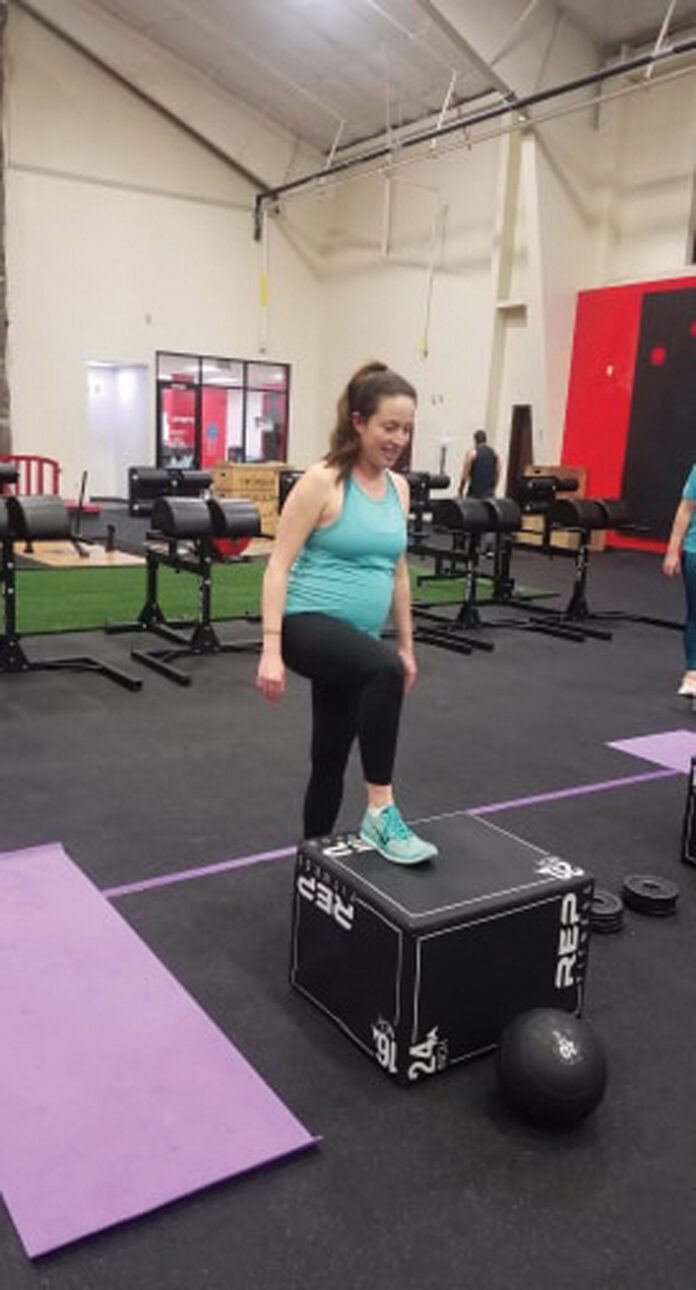 FORT IRWIN, Calif. — Capt. Caitlyn De Kanter is an expectant mother and Physician at Weed Army Community Hospital and said when she became pregnant, she knew she would keep working out while carrying and growing a baby.
"I didn't have any concerns about continuing lifting or exercise while pregnant," said De Kanter, who is lifting just below her pre-pregnancy weight.
De Kanter primarily engages in functional fitness workouts and said she has always considered continuing her exercises, in a non-complicated pregnancy, to be healthy. She acknowledges working out while pregnant is an individual decision, based upon one's own pregnancy needs, explaining that running became uncomfortable early on, so she made the decision for herself to stop, but she still engages in a workout 2-3 times a week.
Heather Gibson is a certified personal trainer, specializing in nutrition, and prenatal/postnatal fitness.
"There are many opportunities to keep fit and focused here at Fort Irwin," she said. "However, the prenatal demographic slips through the cracks when it comes to health and fitness in general."
Gibson has certifications with the American Council on Exercise and International Sports Science Association and is on a mission to take the confusion out of prenatal fitness.
"Most expectant mothers are typically too scared to work out," Gibson said. "They're afraid of harming their baby and don't realize how much easier delivery and post-recovery can be if they stay fit; not to mention, a lot of obstetrics and gynecology physicians tend to discourage exercise not because it's unsafe, but to keep their liability low."
Gibson suggests for women who want to stay fit during their pregnancy and still have concerns, to first and always consult their physician. She said women must also listen to what their body is telling them, wear a pregnancy belt for added support, and if they decide to seek the assistance of a professional trainer, to make sure they are prenatal certified.
"As a trainer, what I see most is pregnant women who share concerns about not knowing what is safe, or where to start," Gibson said. "If you're concerned about your health, you should always consult with your physician. They will let you know if you and your baby are healthy enough to exercise, and what your limits are."
De Kanter said that before coming to Fort Irwin, she would participate in a lot of gym classes and working out with a trainer like Gibson has pushed her to challenger herself.
"For example, functional fitness could include a circuit of box steps, plank movements, medicine ball slams, which definitely gets your heart rate going!" De Kantner said. "And Jacob's ladder which is cardio, and some nights we practice deadlifts. It's a good mix."
The American College of Obstetrics and Gynecology encourages women with an uncomplicated pregnancy to engage in aerobic and strength training.
"Exercise has always been a stress relief and me-time," De Kanter said. "I would go stir-crazy if I wasn't able to exercise. I have a hard time making a workout plan and find it easier for someone to just plan workouts for me."