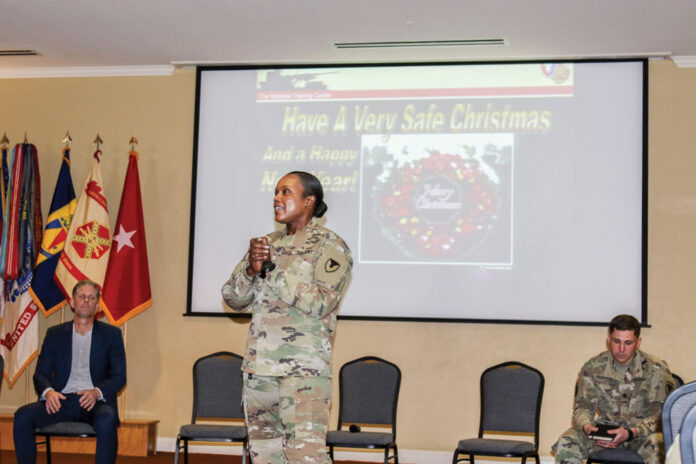 FORT IRWIN, Calif. — The Garrison Command team, along with key officials, gathered at Fort Irwin's Sandy Basin Community Center on Dec. 2 to update the community on housing and barracks and address any concerns.
The Villages highlighted BAH (Basic Allowance for Housing) updates and rent comparisons for surrounding areas, and emphasized their efforts to modernize the homes, to include the removal of carpet, upgrading kitchen appliances and plans to replace slatted fencing in the housing areas with reinforced privacy fencing in the upcoming year.
The Department of Public Works addressed concerns regarding fading street lines. DPW is working on updating the road markings and will be providing a maintenance schedule shortly. Garrison Commander, Col. Jeanette Martin, announced that the RV park completion is now projected for January 2020.
Garrison Safety Director, Mark Harvey, wrapped up the town hall by emphasizing holiday safety tips, from Christmas tree/light safety to shopping safely, being aware of your surroundings, and preparing for long road trips, to self-care.
"Remember your family needs you," he said. "Keep that in mind when your back hurts and are tired (while driving) — that means it's time to stop and take a break."
You can find additional Housing Town Hall slides and information on the Fort Irwin website, home.army.mil/irwin.