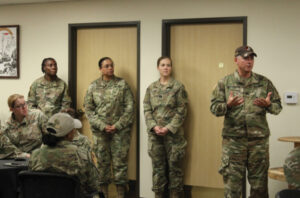 FORT IRWIN, Calif.  — The Blackhorse Band of Sisters held the first of many meetings on Dec. 6 in the Miles Conference Room (Building 186) in Fort Irwin, Calif.
The Band of Sisters is chaired by Maj. Elaina Hill, Regimental S1, Capt. Courtney Fox, Regimental Behavioral Health Officer, and Sergeant 1st Class Tiwanna Angulo, Regimental Sexual Assault Response Coordinator, with full support from Col. Scott Woodward and Command Sgt. Maj. Anthony Walker. It is part of an effort to be more accommodating to female Soldiers to raise morale, improve the work environment, and increase combat efficiency.
The Band of Sisters' has three pillars: "Connect," to show the strength of being a female military member through networking and building professional relationships; "Empower," to instill resiliency and confidence in physical and mental health; "Succeed," imparting the importance of education, conquering adversities in an ever-changing environment, and improving competencies and performance in the workplace. The first pillar is particularly important in an isolated combat-arms regiment where females make up approximately only 10 percent of troopers, especially in small troops or sections where they may be the sole female.
The Band of Sisters aims to provide a sanctuary where troopers can meet others they would otherwise not have interacted with, create personal connections, and be open to peers without fear of being judged or criticized. Furthermore, all three leaders cite challenges caused by being female in their Army careers as part of their motivation for guiding this program and hope that, for the newer soldiers attending, networking with and being supported by peers can lessen the difficulty or entirely avoid any such struggles. This project is also an occasion for those who have served longer to share their experiences and lessons gained in the Army.
This first meeting was a meet and greet for the attendees. Everyone introduced themselves, shared their hobbies and something they would like to change about the Army, and had the opportunity to add their number to a "Battle Buddy Phone Tree," a regimental directory of female troopers where an individual could call for advice, help, or support as needed. The gathering was a huge success: more than 50 troopers from across the squadrons were present, vastly exceeding the expected 15 to 20, and Woodward made an appearance near the end of the gathering, speaking to the troopers and affirming his support for the Band of Sisters.
Gatherings, similar to this one, are tentatively planned to be held monthly during BRD week in the Miles Conference Room, and special events are planned to occur every quarter. The next Band of Sisters meeting will be an off-base "Retreat" event taking place from January 24th to 26th. The location is still to be determined, but transportation and lodging will be provided.