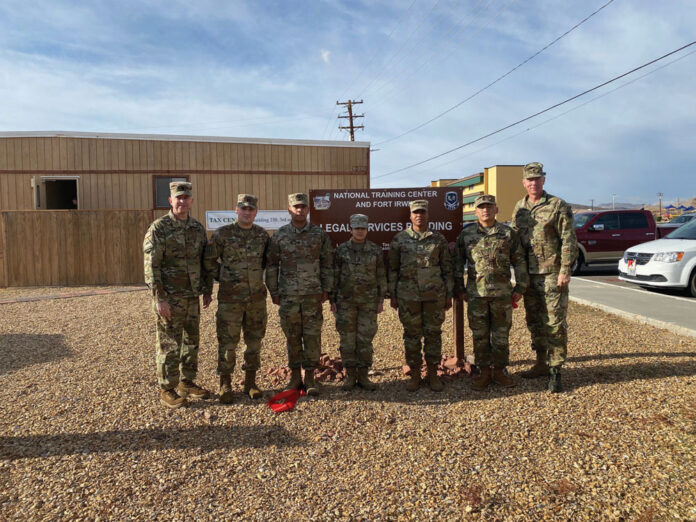 FORT IRWIN, Calif.  — The Internal Revenue Service, or IRS, began accepting and processing federal tax returns on Jan. 27 and will accept returns through April 15, and the Fort Irwin Tax Center is here to help.
The Tax Center held a grand opening ribbon cutting on Jan. 21 with the NTC Commanding General, Brig. Gen. David Lesperance and the Garrison Commander, Col. Jeannette Martin.
Who will be preparing your taxes? The Fort Irwin Tax Center operates under the supervision of the Legal Assistance Office and in conjunction with the IRS Volunteer Income Tax Assistance (VITA) program. All tax preparers are volunteers from units at Fort Irwin, trained and certified under the VITA program. In other words, your tax returns will be prepared by Soldiers assigned here at Fort Irwin, who have been trained and certified to prepared taxes by the IRS VITA program.
To be eligible to get your taxes prepared by the Fort Irwin Tax Center, you must be Active-duty military personnel, AD retired military personnel, or a dependent of an active duty Soldier or AD retiree. Reservist and National Guard servicemembers are also eligible if they are on active-duty orders for more than 30 days. To prove eligibility, please make sure to bring a copy of your orders and/or your military ID.
Due to certain criteria under this program, some individuals may not be eligible to have their returns prepared. In accordance with the Army regulation, assistance is not available for individuals who receive income from personal business or commercial enterprise; however, there is an exception to policy for Family Child Care (FCC) providers enrolled with the installation. An initial pre-screening of eligibility will be conducted before appointments are scheduled. This service is completely free so make sure to stop by the Tax Center Office inside building 230 to make an appointment.
Hours are Mondays, Tuesdays, Wednesdays, and Fridays from 9 a.m.-5 p.m., and Thursdays from 1-5 p.m.,with the last appointment starting at 4 p.m. The Tax Center is closed during lunch time from noon-1 p.m. If you have any questions, call
760-380-1040.