FORT IRWIN, Calif. — Fort Irwin's Military and Civilian Spouses' Club (MCSC) held its monthly fundraiser luncheon on Feb. 20, with an Oscars theme, complete with a red carpet, guests in ball gowns and miniature Academy Award trophy statues.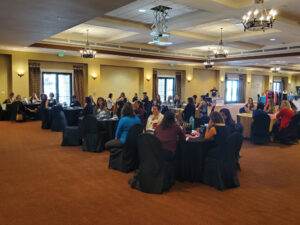 The event was held at the Sandy Basin Community Center and spouses donned some of their best garments for the occasion.
Military and Civilian spouses' clubs are typically a large group of spouses who meet for lunches, dinners and fundraisers and collect donations and items for on-post (and off-post) organizations and scholarships. The club on Fort Irwin also runs the on-post Thrift Store, a gift shop and Operation Deploy Your Dress, which provides free dresses and accessories to spouses.
MCSC's president said she's happy to see the amount of participation that each event has generated.
"The spouses' club gave roughly $23,000 in grants last quarter," Olivia Templeton said. "This luncheon is a monthly event with plenty of room for additional spouses to join the club." The grants went to 13 organizations, including 916th, Momma and Kiddo Workout, Team RWB and all Fort Irwin schools. They ranged from a few hundred dollars to more than one thousand dollars.
The luncheon consisted of a movie trivia game with a prize pack of a movie gift card, bag of popcorn, Raisinets, Twizzlers and a mini Oscars statue.
The menu included steak, mashed potatoes, asparagus, cheese ravioli, breaded eggplant and chocolate pudding.
Each luncheon has an outreach and urges guests to bring products to donate, so this month's non-profit organization was Desert Manna Food Bank, with requests for non-perishable foods and canned goods.
The spouses' club always opens up the invitation for vendors during their events and some of them were the ladies of the Heavy ArmHER Roller Derby Team, Eve's Art and Blue Moon Art Studio.
MCSC is a charitable organization with the chance for soldiers and family members alike to apply for grants and scholarships. In 2019, the club awarded about $69,000 in grants and scholarships. The majority of the spouses' club revenue originates from the on-post Thrift Store, the MCSC Gift Shop and successful fundraisers.
The next up-coming event for the Spouses club is March 19 at the Sandy Basin Community Center from 11a.m. – 1p.m. The theme of the event will be "March Magic" and Allen the Illusionist will be the performer, with Filipino Food Takeout as the caterer.
The last, two luncheons of the year are April 16 and May 14. For more information on MCSC events, fundraisers, grants and scholarships, visit mcscftirwin.org.