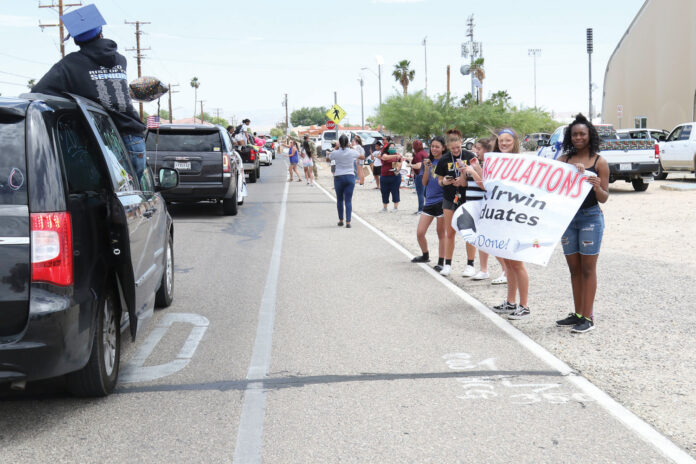 FORT IRWIN, Calif. — When students in the Silver Valley Unified School left school on March 13, they had no clue that it was the last time they'd have class in the building and see their teachers in person for the rest of the school year.
What began as an early Spring Break turned into an online distance learning course for the remainder of the year, after COVID-19 precautions forced the official announcement on April 1.
"We understand how difficult it has been to do school from home and I truly hope our district was able to deliver a high-quality distance learning program for your child," District Superintendent, Jesse Najera said.
Students, teachers and parents had to quickly adjust and transition to an entirely new model and format of learning and teaching.
"I also want to thank our teachers, support staff and administrators for stepping up to meet this unprecedented challenge," Najera said in a release.
During the eight weeks of online learning and time away from the school buildings, the district was able to distribute a laptop and/or hotspot to every family that required it. The district also continued to provide mobile meals for students each weekday and the Child Nutrition Services Department prepared and provided more than 75,000 meals. They plan to continue offering meals through June 30.
Najera said he understands it's best to have students and teachers under the same roof and that's the hope for the next school year, although contingencies are already in place if schools are not able to open safely in August under public health guidelines.
"Silver Valley Unified School District will offer a virtual 'home school' learning model for any K-12th grade student that prefers a distance learning setting," Najera said.
Those students would still have access to school activities, clubs, field trips and athletics.
Online enrollment will begin this summer and more details on how will be released soon.
"Our goal would be that we can start school in August with our students physically present…if conditions are not safe to return in August, we will be prepared to offer a high-quality, distance learning program to all our families," Najera said.
Congratulations to all of our Fort Irwin high school graduates!
Arron Guerrero-Petty
Troy Bakies
Matthew Fitch
Cecilio Camarena
Eileen Galinger (2 pix)
Aquina-Maria Tedpahogo
Ericka Nutter
Homero Najera
Jacob Hunter (Valedictorian)
Madison Spalty-Vargas
Caleb Seal
Damien Ortega
Jeffry Talbot
Zion Tinae
Nathaniel Lake
Michael Washington
Ayanna Gray
Barron Kartchner
Belindarose Ane
Jacob Berry
Kiyah Hamm
Edward Hingula
Destinee Jacobs Mondragon
Reahanna Long
Alyxza Lopez
Liam Mairel
Bre'Asia McGlory
Armano Paleso'o
Joseph Payne
Tannis Polonius
Laura Racy
Rachel Racy
Carlos Rodriguez
Nicholas Rojas
Alexis Tsethlikai-Qyaco
Michael Washington
Jessica Pacheco
Claudia "Kat" Pacheco
Skylee Bryson