FORT IRWIN, Calif. — The Community Service Council meeting on March 30 focused on the topic of Permanent Change of Station (PCS) moves and sponsorship.
Garrison leadership provided information on household goods, transportation, in-processing procedures, the housing application process, housing counseling services, move-in and out procedures, child youth services and schools.
Garrison Command Sgt. Maj. Paul Fedorisin offered advice for those considering living off post. "Before you sign a lease off post, I recommend you arrive on the ground and go check that site out," he said. "There's a drive and there are unique factors in the outside community that you probably want to be aware of, and you may change your mind and it's very hard to break a lease."
The closest town to Fort Irwin is 37 miles away.
Fedorisin also encouraged the community to act as sponsors and advocates for those moving to the installation.
"There have been a lot of changes that have been implemented in the last, two years, so please reach out to all of these entities (on-post departments) and verify that the information you're passing forward is the correct information," Fedorisin said.
Soldiers should visit the move.mil site to begin their moving process and to begin processing of household goods.
A change to PCS moves for 2021, is that the Transportation Service Provider will provide a firm pick-up date within a customer-provided, seven-consecutive-calendar-day spread.
During a move, if the soldier has issues or concerns, they can notify the Personal Property Processing Office at 760-380-3823, 760-380-3824 or after duty hours at 760-380-3823.
For help with Defense Personnel Service (DPS), soldiers can call (800) 462-2176 and choose option 5.
There is also the option to personally procure your own move and directions on that avenue are also on move.mil. For this and other moving services, soldiers can visit the Reception Campus on the bottom floor of building 105.
The Garrison Army Housing Office is located in Building 111 on Langford Lake Road.
As soon as a soldier receives official orders, he/she can apply for housing on post. To do so, contact the Villages leasing office at 760-380-4463 and a leasing specialist will assist in the transition. You can also visit villagesatfortirwin.com.
Some general tips provided for those who are clearing housing, include giving notice to move more than 30 days out, if possible, and beginning work orders well ahead of the expected move.
Fedorisin also said, "Please save the maximum amount of TLE (temporary lodging expense) days for when you arrive."
Other items leaders detailed were:
• School district information: Bldg. 21, 760-380-6880
• The Lending Closet: Bldg. 109, 760-380-3776 (Available for borrowing needed items before household goods arrive)
• Paws and Claws Kennel: Bldg. 978, 760-380-7387
• Exceptional Family Member Program (EFMP): Bldg. 109, 760-380-3698
• RV Park campground/Outdoor Rec Stoage: Bldg. 4390, 760-380-4327
• Jobs (NAF, AAFES): USAjobs.gov
• Army Housing Office: https://home.army.mil/irwin/index.php/about/Garrison/directorate-public-works/housing-services-office?fbclid=IwAR0aeO37BifuDI7srpWitQCyJR5VN9jcfgOXQSHqVPgSpKmwYWGi554lVwM
• EFMP Registration site: https://efmp.amedd.army.mil/
You can find these slides on the home page of our NTC Website under "Town Hall Slides." There was a CSC held on April 27 and the next one is May 25. https://home.army.mil/irwin/application/files/7516/1738/5187/Community_Service_Council_UPDATED_.pdf
Move-in Tips from the Villages Housing:
• Each home is inspected by the Army Housing Office prior to the move-in walk through
• On move in day, you will need to have the following documentation in order to receive keys to your new home:
• Set up payment for your pro-rated rent — can be post-dated to 1st of following month
• Pet Deposit Up to two pets per home with a $250.00 deposit per pet. Breed restrictions apply. Please review our pet addendum for breed restriction details. – You will need to provide proof of registration with the vet on post and a picture of your pet.
• We highly encourage all residents to watch the video, titled "Protect Your Family From Lead Exposure," prior to signing a new lease.
• We will walk you through your home and ensure there are no issues we need to address immediately.
• You will then have 10 business days to return with any discrepancies you may have discovered after the time of accepting occupancy.
• We will also schedule a 90-Day Post Move In Visit.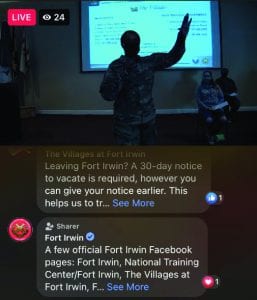 Move-out Tips from the Villages/Housing:
• When you receive orders, please call our office at 760-380-4663, to schedule an appointment to give notice. Normally you MUST give us a 30-day notice to vacate, but we will take into consideration our current stop-loss situation.
• At your appointment, we will schedule your Pre-Inspection & Final Inspection dates. We will go over your cleaning options. If you need to reschedule your final inspection, please contact your leasing specialist.
• Cleaning Options available are: Self Clean, Contract your own vendor, or Pay and Go
• You are responsible to mow yard and make sure it is free of any weeds, feces, and debris. This includes 10-foot perimeter around your home.
• No trash can be left in the trash cans, on the curb, or in your home. Please call ahead to schedule bulk trash pick up at 760-380-2460.
• If you are eligible to use your BAH for your Pro-Rated Rent and any move out charges, and would like to forfeit, make sure you let your leasing specialist know at time of notice. The Cut Off date is usually around 15th of month.
• Pet Deposit Waiver if you have pets, you may waive your pet deposit to use towards any pet damages and/or cleaning costs