On May 26, 2022, the 11th Armored Cavalry Regiment hosted a Regimental Call at the Fort Irwin Field House, Fort Irwin, Calif., to recognize and celebrate the achievements of its Squadrons, Troops, and Troopers throughout Decisive Action Rotation 22-07.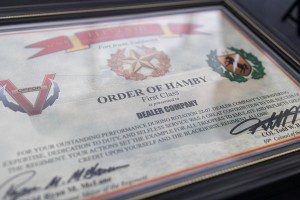 At the beginning of the event, Lead 6, Brig. Gen. Curtis D. Taylor, Commanding General, National Training Center and Fort Irwin, once again applauded the Blackhorse Regiment on the rotation. He also recognized key leaders who made a direct impact on the training rotation utilizing indirect fires.
The Sullivan Cup team from Hawg Company, 2nd Squadron, 11th Armored Cavalry Regiment, was commended for their performance at U.S. Army Fort Benning. Wanted posters were presented to the Guest Blackhorse units. Regimental Coins were presented to Troopers for their outstanding dedication to the mission during the Decisive Action Rotation, including the Top Guns from Coldsteel, Dealer, and Killer. The Order of Hamby First Class was presented to 58th Combat Engineer Company, Coldsteel, Dealer, and Killer. The Regimental Top Sustainer and Maintainer were also recognized. In culmination of the event, the Blackhorse Shield changed hands to 2/11 Squadron.