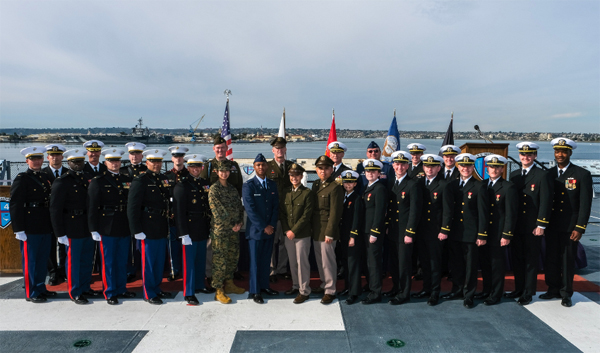 Seventeen members of the Naval Reserve Officers Training Corps San Diego, including several from the University of San Diego, were commissioned on the USS Midway Dec. 17, 2022, during a mid-year ceremony.
The ceremony represents a significant milestone. It represents the end of a journey of education, training and self-discovery and marks the beginning of a journey of military service by taking the Oath of Office.
Of the NROTC members who commissioned; eight were ensigns (Navy) and nine were second lieutenants (Marines, Army and Space Force).
"Each of you are going to remember today for the rest of your lives," said Commanding Officer of NROTC San Diego Capt. Gerald R. Olin. "This is just the beginning of an exciting career of service."
Brig. Gen. Curt Taylor, Commanding General of the National Training Center and Fort Irwin, Calif., addressed the new officers. He noted that leading as a junior officer will come with its own unique set of challenges, but urged the newly commissioned to remain focused on the job at hand.
"Fight those distractions, especially when the weather is cold, morale is low and the prospects of success are faint," said Taylor. "Be there, shoulder to shoulder with your service members demanding excellence first of yourself and then of others."
NROTC San Diego was established at the University of San Diego and San Diego State University in 1982. Since then, enrollment agreements with Point Loma Nazarene University, Cal State University San Marcos and the University of California San Diego were also established.