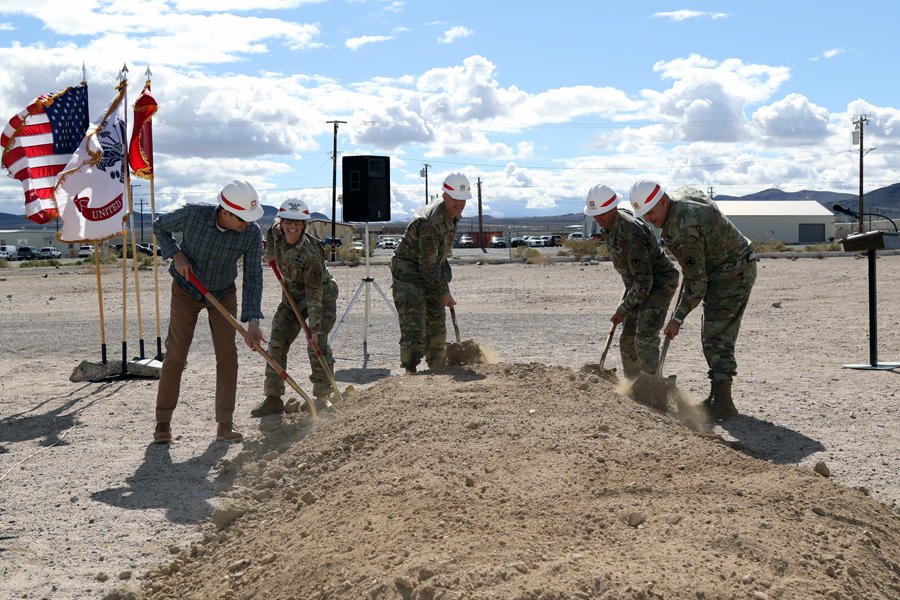 Leadership from the National Training Center, Fort Irwin, Calif., and the Corps of Engineers Los Angeles District broke ground on a $44 million Simulations Center March 23, 2023, during a ceremony, at Fort Irwin.
Construction on the 68,000-square-foot, single-story facility is estimated to start mid-April 2023 and complete in March 2025 under the supervision of the U.S. Army Corps of Engineers Los Angeles District.
The Simulations Center will bring new capabilities to the NTC's training of a divisional staff on their mission essential task list and enhance the virtual and constructive training environment of the rotational training units.
The facility will house two related functions: a Simulations Center (Sim Center), which includes a Mission Command Training Center, Tactical Operations Center Pads, and building information systems, and the companion Leader Training Program portion which will include offices for the rotational unit's command staff, rehearsal rooms and administrative support space.
Brig. Gen. Curt Taylor, commanding general of the National Training Center and Fort Irwin, spoke at the ceremony and highlighted how the new facility complements the Army's recent revisions to FM 3-0, Operations, which establishes multidomain operations as the Army's operational concept.
"We're a brigade-centric training center … and now the Army just published that the division is the principal warfighting formation, so how does that change the role and purpose of the National Training Center?" Taylor said. "It's time to bring the division to the National Training Center."
Taylor explained how the facility will accommodate a division.
"What this facility will do is it will allow us to conduct a live brigade rotation in the box simultaneously and seamlessly with a division level constructive exercise right here so we can better integrate the division in the brigade fight," Taylor said.
The "box" refers to the NTC's vast training area which is about the size of the state of Rhode Island.
Col. Julie Balten, the commander Corps of Engineers Los Angeles District, said the mission at the Corps of Engineers is to deliver engineering solutions for the nation's toughest challenges, which includes continuing to deliver state-of-the-art facilities at Fort Irwin to support warfighters and their families to strengthen the nation's security and energize the local economy.
"Construction of the Weed Army Community Hospital, water treatment plant, Gray Eagle hangar and the Fort Irwin Library over the last several years are all tremendous examples of our desire to continue to support the growth and transformation this community has experienced over the past 20 years," Balten said. "Along with our partners, we are committed to meeting the needs and requirements of world-class sustainable installations, like Fort Irwin, where Soldiers and their families call home."