Influencers and education leaders from California spent a day as a Soldier during the National Training Center and Fort Irwin's Distinguished Visitor Immersion Tour April 28 and 29., 2023, at Fort Irwin, Calif.
Brig. Gen. Curtis D. Taylor, commander, NTC and Fort Irwin, said the installation conducts the tour two times a year with the intent of connecting influencers, with limited exposure to the Army, to the Soldiers who serve and the mission of the installation.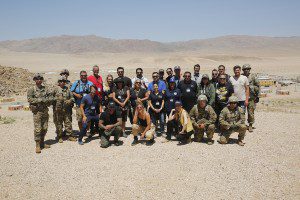 "They won't remember a briefing they get from me, but when they hear about all of our Army's opportunities and what it means to serve from the young men and women in our ranks; no briefing can replicate that," Taylor said. "That's a take-away that will last a long time."
Different groups visited the installation each day which started with a ride in a UH-60 Black Hawk helicopter from Burbank and included a combat demonstration, a meal-ready-to-eat for lunch, weapons familiarization, a static display with multiple military occupational specialties and a simulated patrol lane.
Whitney Cummings, a comedian, writer and podcaster, attended the first day of the tour.
"I tend to not give myself too much credit for the courage that is required for performing in front of thousands of people in such a vulnerable way," Cummings said. "It's terrifying to most people, to me, it's terrifying the idea of not doing that, but I think that most comedians who do something that is ostensibly, incredibly brave [and] terrifying, other people look to, that's how I feel about people that serve our country."
Cummings invited actress and comedian Hannah Stocking to attend with her.
Together with other attendees of the event, Cummings and Stocking formed a team and learned how to enter and clear a building from 11th Armored Cavalry Regiment Soldiers.
"I've never done anything like this, so it was invigorating," Stocking said. "I got to experience something I never would have gotten to experience [and] I have so much respect for Soldiers and everybody in this space."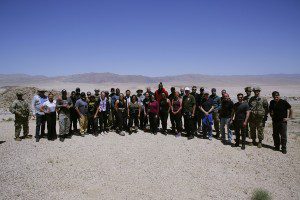 For Cummings, working with the team was one of her favorite parts of the day, she said.
"Watching the diamond formation moving towards one of the buildings was so cool because even though I didn't necessarily know what I was doing, I feel like I took it in, but very quickly this sort of teamwork mentality comes in," Cummings said. "I'm a comedian, I'm very lone wolf in what I do, so it was just so cool to have this wolfpack mentality come in right away."
On both days, guests attended a round table session with senior leaders of the installation and spouses.
"I learned that this whole community is really supportive," Stocking said. "Everybody just works as a unit, and it's a lot of fun."