Col. Jason Clarke relinquished command of U.S. Army Garrison Fort Irwin to Col. Lane Bomar during a ceremony June 21, 2023, at garrison headquarters, at Fort Irwin, Calif.
Clarke assumed command in June 2021 and took on what Brig. Gen. Curtis D. Taylor, commander, National Training Center and Fort Irwin, deemed the "hardest job in the desert."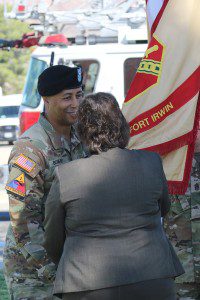 "Eighteen months of COVID restrictions had frayed the fabric of life, the thing that makes Fort Irwin such a great place at this remote installation," Taylor said during his speech. "You and I both agreed that rebuilding a cohesive community was the most important thing that we could focus on together."
According to Taylor, Clarke started a regular rhythm of community events that grew from interesting to world-class, culminating in a concert in April that had over half the post's population in attendance.
"Your team also set out to transform our facilities, starting with where our Soldiers live and work," Taylor said.
The transformation included a new community library, the renovation of Jackrabbit Park, a new casual dining restaurant and a new bar for Soldiers at the Epicenter, new and renovated community playgrounds, and a renovated troop pool, Taylor said.
"Ten years from now this post will look very different," Taylor said. "It could not have happened without months of work that you invested."
During Clarke's speech, he acknowledged that when he took the job of garrison commander, he had different expectations.
"I thought this would be a simple 9 [a.m.] to 5 p.m. job," Clarke said. "Turns out it's more like 5 a.m. to 9 p.m. job with a couple calls after that, but it's also the best job I never knew I wanted."
During his time as garrison commander, Clarke saw true change happen to the Fort Irwin community, he said.
"My promise to you two years ago was to put COVID in the history books and bring back our community programs and reconnect with the outside community that we lost during the pandemic," he said, mentioning the successes of the Child Youth Services and religious programs on the installation. "I've lost count of how many grand openings we've had, but we are breaking ground and renovating to improve the future of this community and to continue to improve quality of life."
In his speech, Bomar addressed leadership from the National Training Center and Installation Management Command.
"I look forward to supporting your efforts of ensuring we provide a high quality of life to match the high quality of training this installation provides to the force," Bomar said.
Bomar also reaffirmed his commitment to the Fort Irwin community and partners.
"To the Fort Irwin garrison team, I'm excited for the next two years and I'm ready to begin this journey with you," Bomar said. "To the friends, families and partners of the Fort Irwin garrison, I look forward to working with you in ensuring Fort Irwin garrison remains committed to providing excellent and responsive quality of life to the NTC community."