FORT IRWIN, Calif. — The Fort Irwin Army & Air Force Exchange Service hosted a grand opening for the American Tattoo Society-Fort Irwin tattoo studio Aug. 23, here.
Fort Irwin is the seventh U.S. military installation to open a tattoo studio, with the most recent opening on Fort Moore, Georgia, in July 2023.
From the first tattoo shop on Nellis Air Force Base, Nevada, to the most recent on Fort Irwin, the American Tattoo Society team handled multiple logistical challenges, including COVID-19, military regulations and varying safety standards from state to state.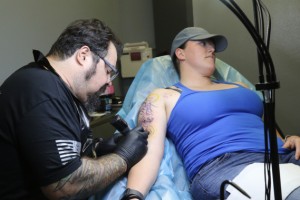 Ryan Harrell, the owner of American Tattoo Society, and his team worked closely with AAFES and U.S. Army Public Health Command to create a standardized body art model code based off the National Environmental Health Association's, which is considered best practices across the board, Harrell said.
The team also met with San Bernardino County Health Department to see if the county had additional health regulations, Harrell added.
"Some of these things are outside what a normal tattoo studio would have to do," Harrell said. "A lot of stuff that we're doing is above and beyond best practices and the level of certification our artists have is far and above what is required in any other state."
Along with safety standards, the artists of the studio also are required to tattoo all customers within Army regulation, according to Harrell.
Harrell said he wants the community to know that the studio will provide high quality tattoos.
"You know that when you come in here, the artists are going to be able to do what they say they're going to do because they've been vetted so thoroughly to get on base," he said. "You're going to get a great artist at a good price at or below what other premium artists would charge off base."
The Fort Irwin studio, managed by Faith Bomar, is located at 83 Goldstone Rd. and has one permanent artist, a part-time artist and two visiting artists monthly.
James Vaughn, who made several appearances on the TV show Ink Master, tattooed members of the Fort Irwin community at the Fort Irwin studio's grand opening.
Staff Sgt. Tiffany Payne, the emergency room noncommissioned officer in charge with Weed Army Community Hospital received a tattoo from Vaughn.
"James Vaughn is a world-renowned artist, veteran, and superb human being," Payne said. "The ability to get a tattoo from someone of his caliber in a remote location like the National Training Center is a true blessing."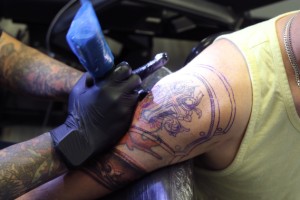 The shop's permanent tattoo artist, Ronin Lugo, said coming to Fort Irwin felt isolating at first, but the community is welcoming.
"Once I realized how the community supports each other with doing family stuff, local groups and seeing they have gyms and they're not that far from civilization, being on base is really welcoming," Lugo said.
Tattooing is what Lugo is passionate about and he is grateful to be able to tattoo the Fort Irwin community, he said.
"That's what I like about doing this: I get to talk to people and get to know them," Lugo said. "They know I'm not here after their money, I'm here giving them what they want to get and in return I'm getting to know someone from any part of the country or background and I get to enjoy what I'm doing."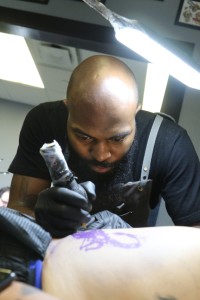 Payne, who has been stationed on Fort Irwin since 2019, said the convenience of a tattoo studio could positively impact quality of life on the installation.
"The ability to get a tattoo here on base rather than drive a few hours is a huge morale boost, too," she said. "Anything that the installation is able to do to provide different recreational options for the service members locally is greatly appreciated!"
Bomar agreed that the tattoo shop could help the morale and camaraderie on the installation.
"There's something about the energy at a tattoo shop that is just contagious," Bomar said. "People want to be a part of it, and you can bond with somebody who is many generations older than you or younger than you over art."
When it comes to tattoos and the clientele, there isn't a set demographic or typical customer, she said.
"Ink transcends all of that and that is part of what brings the morale boost here," Bomar said. "There is a pride in it that is going to help this community tremendously and bring in some new life and fresh ink and perspective."
The studio is open from 10 a.m. to 8 p.m. daily. Appointments can be made inside the studio or via the studio's social media channel.