The National Training Center and Fort Irwin hired eight paid interns to work here from July to August, as part of the summer Pathways Internship Program.
Fort Irwin Civilian Personnel Advisory Center (CPAC) vetted the recent high school graduates and current college students who applied for the part-time GS-2 positions and hired from a pool of more than 30 applicants.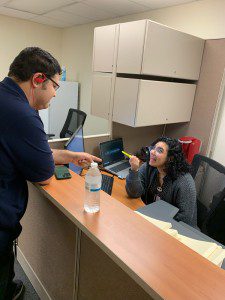 David Garcia, the chief of manpower and force management with NTC, said the program is the interns' introduction into government work.
"Even though the work is administrative, I put it on the first line supervisors that work with these interns to show them what we do and the bigger concept that way they can get a better idea of what government work is," Garcia said.
Interns worked at NTC headquarters or at brigade level in sections including information technology and budgeting.
"We take their resumes, we take their college path and what they want to learn, and we try to place them in the best job to help support their career goals and their educational goals," Garcia said.
Sometimes interns are placed in jobs that are different than their career or education path, but that's not a bad thing according to Leaha Alvarez, a Barstow High School graduate and current Barstow Community College student.
Alvarez is currently studying English on path to be a teacher and worked with the 916th Support Brigade budgeting office this year and the National Training Center G6 last year, she said.
"There are so many more options in that same career choice that you have, and this plethora of skills are given to you, and you can take advantage of those and apply those in ways you wouldn't even know," she said. "You can go into a school district and be an IT lead [and] that's something you can learn here at G6."
Several interns, including Alvarez, participated in the program in previous years.
"To me, that's a testament to how positive the program is because they keep coming back," Garcia said.
Jadelynn Camarena, a recent Silver Valley High School graduate and current Barstow Community College student, participated in the program for the first time this year and worked in the NTC G8 office assisting with the mass transportation program.
"At first I was really nervous because this was my first official government job and I was with a brand new team … so, I had the first day jitters," Camarena said. "After I got to know everyone, everything has been so positive [and] I love working with them."
The part-time hours of internship provided a flexible schedule for interns to work and continue to pursue education goals.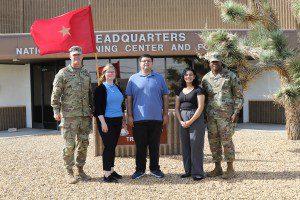 "Because I only work 32 hours a week, I organized my schedule to dedicate Friday through Sunday to schoolwork," Camarena said.
For Alvarez, the internship gave her the opportunity to improve her organizational and time management skills.
"Out here, I've got to try my best, I've got to do it to the best of my ability and that's what I'm going to do 100 percent of the time," she said. "Now that I'm doing that all the time, it's helping me apply that to my school [work]."
Camarena said she initially applied to gain work experience and save up money, but learning about the benefits of government work has given her more options for the future.
"Working here, I think I'm leaning a little more toward working for the government especially because they have a bunch of benefits," she said.
"This is a really good introduction to government work, and I would suggest this for any straight out of high school graduate."
Alvarez said she already recommended the program to other students.
"There are a lot of different puzzle pieces that fit into the government, and you may be one of those puzzle pieces or you may not," Alvarez said. "It doesn't matter if you're a fit or not, it's the experience that counts because you're going to learn a skill to take home with you at the end of the day."
While many interns have a tie to Fort Irwin, it is not necessary to apply, but applicants should live in the local commute area, Garcia said.
The application window for the 2024 internship program will be in spring 2024 with jobs posted on USAjobs.gov.