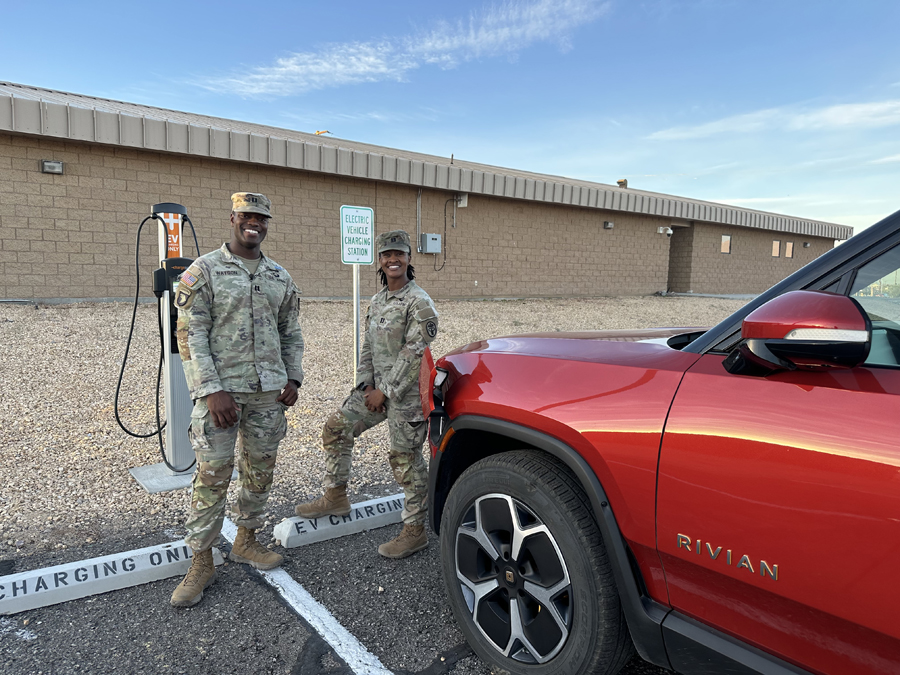 U.S. Army Soldiers Capt. Pierce Watson, Headquarters and Headquarters Company, 1st Bn., 11th Armored Cavalry Regiment, commander, and spouse, Capt. Prayer Watson, Weed Army Community Hospital, U.S. Army Medical Activity training officer, are just one team that is taking full advantage of the 31 electric vehicle charging stations that were recently installed here on post.
Pierce Watson said he is happy with his electric truck because it's relatively quick to charge, has instant torque, and it can pull all the things he wants to tow.
"I really wanted to be on the leading edge of where this country is going in terms of energy conservation and alternative energy sources," Watson said. "It is even more convenient now with charging stations on post."
Prayer Watson, his spouse, also owns an electric vehicle.
"With skyrocketing fuel prices,and our real desire to help the environment, electric cars are a good choice for us," Prayer Watson said. "We can go away for the weekend and then I can come back and charge easily at Weed [Army Community] Hospital where I work."
Paul Schonenberg, Chief of Energy and Utilities Branch, Operation and Maintenance Division, Directorate of Public Works, Fort Irwin Installation Management Command, said Fort Irwin was one of the two Army pilot installations for personal electric vehicle (EV) charging stations– and that it has been implemented ahead of schedule and below budget.
"This helped us meet the federal and state of California goals for [electric vehicles]… and it has made life better here for those individuals that live and work here on post that drive them," Schonenberger said. "We also have a number of government vehicles that are plugged into those charging stations on a daily basis."
According to Schonenberger, charging stations are just one part of the ongoing energy initiative here– and they have made life just a little easier for EV drivers here at Fort Irwin.