by Linda KC Reynolds, Staff writer
A replica model of the original Red Bull Stratos Capsule will soon be on its way to the Sheikh Jaber Al Ahmad Cultural Centre in Kuwait, where it will be permanently displayed.
Art Thompson and his team at Sage Cheshire in Lancaster, Calif., designed, engineered and ran the flight test program that included building the original capsule and life support systems.
On Oct. 14, 2012 Felix Baumgartner broke the sound barrier in free fall, reaching Mach 1.25, an estimated speed of 843.6 mph, jumping 128,000 feet from the stratosphere. This historic jump was 65 years to the day that Chuck Yeager became the first man to break the speed of sound. The original Red Bull Stratos capsule and final spacesuit are on display at the Smithsonian Air and Space Museum Udvar-Hazy Center in Washington, D.C.
Red Bull recently celebrated the 5th anniversary of the jump in Indianapolis at the Red Bull Air Races along with the first man to jump from space, Joe Kittinger. Rain put the races on hold but it did not deter people from seeing the exhibition. "It was great to see Joe and Felix (Baumgartner) again, along with the team," said Thompson. "It was pretty impressive to see hundreds of people standing outside in the rain, waiting to get autographs and to see our display."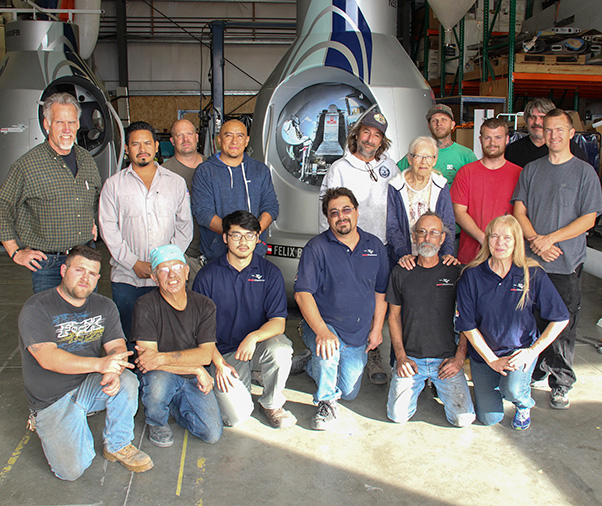 Sage Cheshire is continuing to push the envelope for life-support systems for free fall from "Near Space" stratospheric flights, for government and private space programs. "With all of the redundant safety equipment we developed on Red Bull Stratos and didn't have to use, the next step is going higher, faster and proving out the next level in space safety for the future. Who knows, maybe it will be proven by a woman," said Thompson.
The company is currently working on liquid fuels rocket programs with a number of universities and interns to push the next generation of student engineers, encouraging them with hands on learning. Thompson said they are also very active in the development of recovery systems, Stratospheric testing and hybrid technology that will revolutionize drive systems in the aerospace industry.