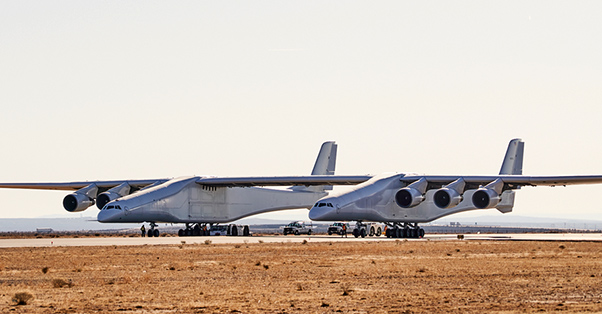 The world's largest aircraft, the Stratolaunch, moved closer to making its first flight Feb. 24-25 as it completed another major milestone.
At the Mojave Air and Space Port, the aircraft sped down the runway at 40 knots (46mph) in its latest low-speed taxi test, firing all six of its 8,940-pound engines.
In a written statement George Bugg, aircraft program manager at Stratolaunch, said, "This was another exciting milestone for our team and the program.
"Our crew was able to demonstrate ground directional control with nose gear steering, and our brake systems were exercised successfully on the runway. 
"Our first low speed taxi test is a very important step toward first flight. We are all proud and excited."
The Stratolaunch is expected to make its first flight in 2019, and, once in service, will help to fire satellites and other objects into space, including a 'Dream Chaser' spaceship that could shuttle astronauts or payloads to and from low Earth orbit within 24 hours.
The main purpose of the latest test was to put the aircraft's ability to steer and stop through its paces.
A ground team from Stratolaunch Systems Corp monitored a number of systems, including steering, braking, anti-skid and telemetry.
Engineers conducted the aircraft's first low-speed taxi test in December, but only hit 25 knots during that test.
The plane is the vision of Microsoft co-founder Paul Allen. Allen envisions the Stratolauncher acting as a giant air pad in the sky, lofting payloads to space faster and cheaper than existing technologies.
In a statement on Twitter, Allen wrote: "Captured new video of @Stratolaunch plane as it reached a top taxi speed of 40 knots (46 mph) with all flight surfaces in place on Sunday [Feb.25]. The team verified control responses, building on the first taxi tests conducted in December."
The plane is so large it needs two fuselages, each equipped with a cockpit.
When airborne, the three-person crew — pilot, co-pilot and flight engineer — will sit in the right-hand cockpit. They will steer the aircraft a fair distance to the right of the center-line. While the left-hand fuselage appears to onlookers to have a separate cockpit, it is, in fact, empty and unpressurized.
Without cargo, the Stratolaunch weighs-in at about 500,000 pounds, and is desgiend to carry a maximum takeoff weight of 1.3 million pounds. The plane rolls around with the aid of 28 wheels, and once airborne will be powered by six 747 aircraft engines. The size of the plane will enable it to serve as an airborne rocket launcher. 
With current technology, satellites have been launched into space from a Launchpad, requiring large amounts of fuel. Stratolaunch is designed to give rockets a 'head start' as they will be carried aboard the aircraft into the sky before launching into space.
Once the company has completed the low-speed taxi tests, they will move on to the next phase of testing, including higher-speed taxi tests, and, eventually, to first flight.
Since the first engine runs in September 2017, the team has completed a series of engine tests from the new Stratolaunch Mission Control Center at Mojave. The MCC serves as the hub for testing communications, and will eventually be the center of the companies aircraft and launch operations.
The aircraft was built by Scaled Composites, an aerospace company founded by Allen's partner in the Stratolaunch project, Burt Rutan. Scaled is now owned by defense contractor Northrop Grumman.
In 2016, Stratolaunch and Orbital ATK signed a deal that will see the Stratolaunch lift Orbital's Pegasus XL rocket, which is used to send small satellites into space.