The 2020 Aerospace Valley Air Show, held October 10-11, will be a special, first-of-its-kind hybrid event to showcase all the reasons why the world views the Antelope Valley as "Aerospace Valley."
As a hybrid event, the skies above Aerospace Valley will be busy with a full schedule of aircraft flyovers and demonstrations. Edwards AFB will be presenting an extensive virtual STEM presentation and many online videos to showcase the history and future of Aerospace Valley.
Aerotech News and Review has partnered with Edwards AFB to produce a hybrid Air Show Program. Available in both print and digital formats, this program is a "must have" to get the most out of this unique Air Show experience.
The print edition will be distributed throughout the Antelope Valley beginning
September 25th. Copies will also be available to schools in support of their STEM curriculum. Additional copies will be distributed in the communities that are home to
Fort Irwin NTC in Barstow and China Lake NAWS in Ridgecrest.
Click here for a printable version 2020 Aerospace Valley Air Show
Publication Date: September 25, 2020
Advertising Deadline: September 16, 2020
Print Circulation: 20,000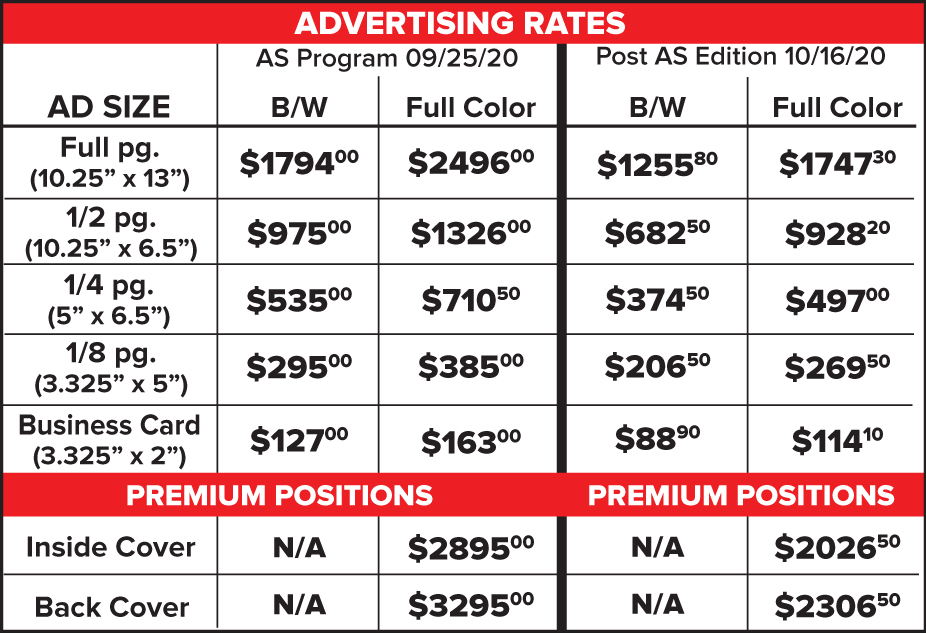 Lower rates for Air Show edition available when you sign up for
minimum of 8 issues of Aerotech News advertising. Call for Details.
*Post Air Show rates are available when ordered with Air Show edition ads.
Post Air Show rates reflect a 30% Savings!!! All Rates Are Net To Publisher
Call Aerotech News today to place your company's advertising in this groundbreaking Air Show Program. Call (661) 945-5634 or (877) 247-9288 toll-free today!
Corporate Headquarters: 220 E. Ave K- 4, Suite 7, Lancaster, CA 93535
Phone: 661-945-5634 Toll free: 877-247-9288
www.thinkmilitaryads.com • www.aerotechnews.com www.facebook.com/AerotechNewsandReview