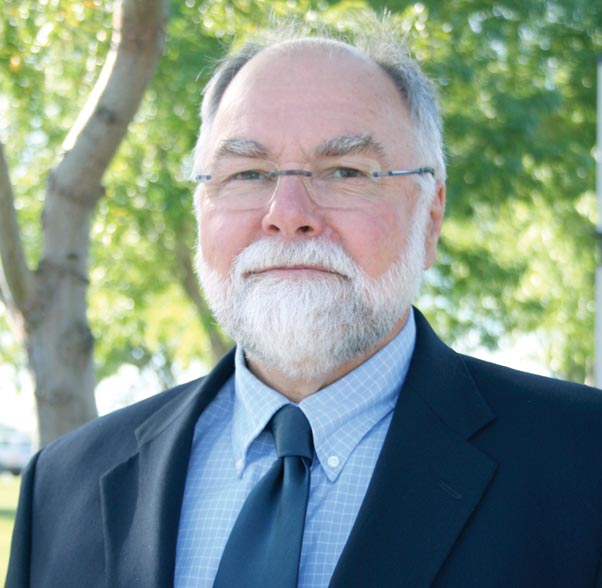 Dr. Leslie Uhazy, Antelope Valley College dean of Mathematics and Sciences, was selected for the Air Force Material Command Community Liaison Program in the fall of 2004.
He attended his first CLP meeting in San Antonio, Texas, at Brooks City-Base with then AFMC commander Gen. Gregory Martin.
"I joined the Community Liaison Program because of my sense of civic responsibility and my love of airplanes," said Uhazy.
As a community liaison, Uhazy has the opportunity to meet with the 412th Test Wing commander several times a year, and when possible, with the AFMC command staff at Wright-Patterson Air Force Base, Ohio. These meetings allow Uhazy and Air Force leadership an opportunity to exchange information and ideas. Then, he can bring what he has learned back to his students, colleagues and other local community members.
During the planning phase of the current Air Force Test Center construct within AFMC, former commander Gen. Donald Hoffman and current boss Gen. Janet Wolfenbarger, shared the operational efficiencies and cost effectiveness linked to the new centers with the community liaisons. Uhazy was able to present that information to the Edwards Community Alliance, Edwards AFB Civilian-Military Support Group, the Mathematics, Science, Engineering, and Technology Consortium and the AVC Administrative Council.
In 2011, Uhazy partnered with community liaisons from Arnold AFB, Tenn., and Robbins AFB, Ga., to speak at the Association of Defense Communities Winter Forum in San Antonio. Their topic was AFMC Community Liaison Program education and workforce development, posing the question, "Is your defense community partnering and prepared?"
As an educator, Uhazy takes every opportunity to tell students about the "exciting information" he's learned during Air Force briefings. He tells them about cyberspace security, hypersonic flight, micro-unmanned aerial vehicles and more.
Uhazy has been interested in aviation since his childhood. He was raised near a Royal Canadian Air Force base and a municipal airport in Edmonton, Alberta. He remembers watching the transition from propeller driven aircraft to jet powered as he grew up.
"With the building of the DEW Line (the early warning radar system across the Arctic) and the Korean War, every type of aircraft imaginable came through Edmonton heading to the north," he recalled. "I have memories of standing by the pencil sharpener and looking out the second story window of my grade school and watching aircraft take-off and land."
Uhazy and his family moved to the Antelope Valley 27 years ago when he accepted an instructional position in microbiology with Antelope Valley College.
"As a new resident of the Antelope Valley everyday brought an aircraft sighting; the SR-71, B-1, MC-130, C-5, F-16, F-22 or the B-2. It was fantastic."
The community liaison program gave him a chance to become "more informed and better citizen of my adopted country."
He has seen changes in command leadership and visited a number of AFMC bases and the Air Force Academy. He has attended multiple technical and informational briefings and attended the National Security Forum (Air University), learning about the strategic mission of AFMC and the U.S. Air Force.
"I have become aware of my responsibilities as a citizen, for I am part of this strategy," admitted Uhazy. "The AFMC Community Liaison Program has provided me with experiences and knowledge that enables me to speak with some confidence to my colleagues and other members of our community about issues that might appear in the press and are related to AFMC, Edwards AFB and the Air Force."
Before accepting his slot in the CLP, he served as the Rosamond representative on the Edwards Environmental Restoration Advisory Board. He was also one the founders of MSET, an educational organization dedicated to Science, Technology, Education and Mathematics education and the development of "home grown" engineers and scientists for Edwards and the industry of the greater Aerospace Valley.
One of the messages Uhazy has brought back from AFMC, is the need for skilled scientists and engineers. In response to this need, he has worked with the MSET Consortium and the AV East Kern STEM Network to bring opportunities in these fields to students. One of those local opportunities is the California State University Long Beach-AV Engineering Program in electrical and mechanical engineering, where classes are taught at the Lancaster University Center.
"The tremendous assistance of the U.S. Air Force and, in particular, the Air Force Research Laboratory, amongst many others, has to be acknowledged. Graduates, "home grown," from this program have been employed at the test center and local aerospace companies."
Editor's note: From time to time, Edwards Public Affairs will be highlighting local AFMC Community Liaison volunteers along with participants in Edwards AFB's Honorary Commander Program.