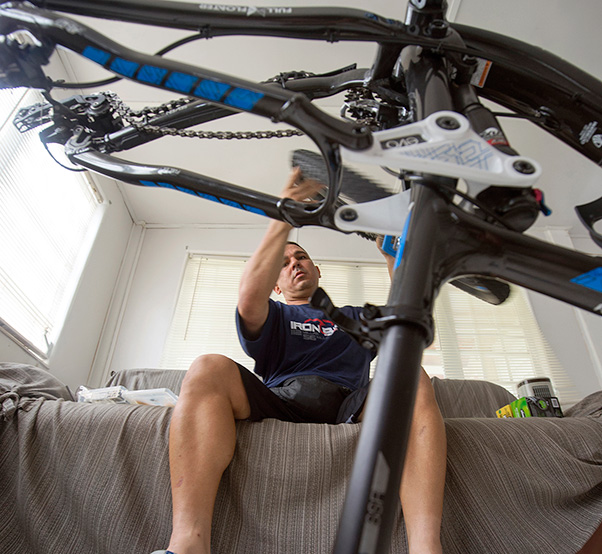 Despite being partially paralyzed after a mortar hit his team during a road-clearing mission in Iraq, Carlos Labarca helped his badly injured captain move out of the kill zone. The Army staff sergeant had to be forced by his base commander to board the helicopter home. He didn't want to leave his troops behind.
Lebarca said leaving his "kids" behind in Iraq was harder than being injured.
"They were like my kids. When I went out, their mothers told me, make sure you bring them back home, and I had three kids by that time, so it's how I felt, that they were mine, my kids," he said. "All of my 'kids' did return home."
Due to his injuries, Labarca was medically retired after serving in the Army from 1990 to 2006 and returned home to Toa Alta, Puerto Rico. Growing up, he absorbed his uncle's stories about serving in World War II and Vietnam with the 65th Infantry Regiment, and when he was old enough, he enlisted because, "I just wanted to grab my rifle and go and do something. I was a G.I. Joe. I loved it."
Road to recovery
The mortar attack damaged his greater occipital nerve — the nerve that travels from the base of the skull to the trapezoid muscles — so he's always in pain and has to take morphine. He is partially paralyzed on his right side. Labarca also has a traumatic brain injury and post-traumatic stress disorder. Doctors found six blood clots on his brain, he says, and he almost lost the ability to speak English because of the pressure on his frontal lobe.
As he was recovering, the doctors warned that he may never walk again and, if he did, he would need assistive devices.
"I got depressed because the only thing I was feeling was 'what am I going to do?' They were going to take me out of the service and that's the only thing I know I can do," he said. "I was really depressed."
He said his wife, Marybel, and adaptive sports helped him in his recovery. "They let me know I could do anything I wanted to do even though it was with a cane or assistive devices," he said. "They opened my eyes a lot. They took me out to ski. I was like, 'Are you crazy? I'm in a wheelchair. What the heck are you talking about?' They put me in a chair and put me on a mountain, and I was like, 'This is awesome. I'm sitting down but I can still do something with my kids.' Everything else opened up, and I started looking into what else I could do."
Cycling
Because he's always in pain and has to limit body-jarring activities, Lebarca decided to try cycling, and he was hooked.
"I went from a recumbent to a mountain bike first, and everybody was treating me like I was going to break or something, so they put me on a mountain bike that had suspension in the front and in the back so I didn't feel all the bumps and everything on the road," he said, smiling. "I didn't want to ride the road bike because of those little pants those guys wear, but as I kept on riding, it was like I wanted more and more, so now I ride both. I just keep riding and riding. I love it."
Now Lebarca not only rides road and mountain bikes in 100k races such as the Las 100 De La Parguera in Lajas, Puerto Rico, he's also a cycling instructor.
"I keep reading and learning, and I'm going to get certified as a spinning instructor next month. Everything I can read, do, get certified on, it's working for me," he said. "It's working, and I don't want to stop there. I just want to keep growing and doing things, helping people. I feel like I've gained so much that I need to give to others. If I get to a hill on a ride and there's somebody who cannot go up, I'll just give them a push. It makes me feel better to help somebody else to get up that hill."
Lebarca's three sons, Carlos H., 17, Carlos M., 15, and Carlos J., 14, ride with him sometimes and take part in Air Force Junior ROTC at Bayamon Military Academy.
He said his family and his cycling are his lifeline. "Without my family, I might have been another number," he said. "Motivationally and for everything, they've been there, my wife and kids."
His favorite ride has been with his fellow veterans during the Warriors4Life Memorial Day ride honoring the 65th Infantry Regiment.
"I didn't know my uncle was going to be there, and when I saw him it was very emotional. I had just lost my dad, and they look a lot alike. I'm so proud of the 65th and their service," Lebarca said. "It was so great hearing their stories. They fought hard over there."
His favorite part of coaching is when he can help his fellow veterans cross the finish line.
"I have chills when I see it in their eyes and feel their feelings," he said. "They've opened up to me and have called me on the course and told me, 'I don't know if I can finish.' And I could tell they were about to cry. I've talked them and encouraged them and when I can help them across that finish line, especially one of my fellow warriors, that's the best part of a race for me, there's no greater feeling."