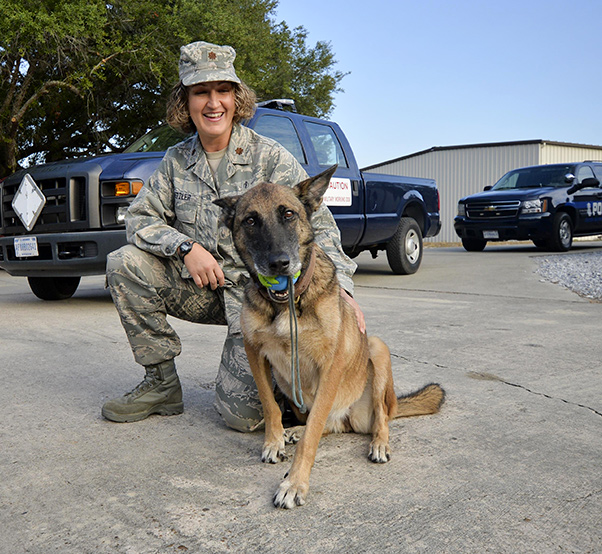 In the early morning hours of Nov. 14, 2016, Airmen from Tyndall Air Force Base, Fla., paid final respects to one of their own as they prepared for one final patrol together.
Retired Military Working Dog Mica was laid to rest after a lengthy battle with cancer.
Mica retired from service in February from the 325th Security Forces Squadron. She was assigned to Tyndall Air Force Base from Nov. 26, 2012 to Feb. 19, 2016.
According to Mica's Air Force Commendation Medal, she distinguished herself in the performance of outstanding service to the United States as a patrol and explosive detector dog.
Mica provided over 4,500 hours of counter-explosive operations and installation protection for more than 45 air assets and 7,000 military, civilian and retired personnel. She served in support of Operations Iraqi Freedom, New Dawn, Enduring Freedom, and Inherent Resolve.
After returning from her last deployment Mica was diagnosed with an aggressive form of cancer. She received round-the-clock care from her dog handlers after surgery.
"We all took turns taking care of her after one of her surgeries, just like you would an infant, feeding her and bathing her — it was a rough two weeks," said Tech. Sgt. Eric B. Hoffman, NCO in charge of the Military Working Dog section. "These dogs live their lives in literal service, so it's important to us to show that respect when their time is done. She lasted a lot longer than anyone said she would and she had people around her who really cared for her a lot."
Mica was adopted by Maj. Mari Metzler, 325th Aerospace Medical Squadron aerospace physiology flight commander.
"She was playing with a toy when I came to see her, I went into the kennel and sat down cross-legged. She put her paws up on my knees and just kind of stared at me and we just hit it off," Metzler said. "I fell in love with her right there."
On the first day Mica was released to Metzler, the pair immediately started to bond.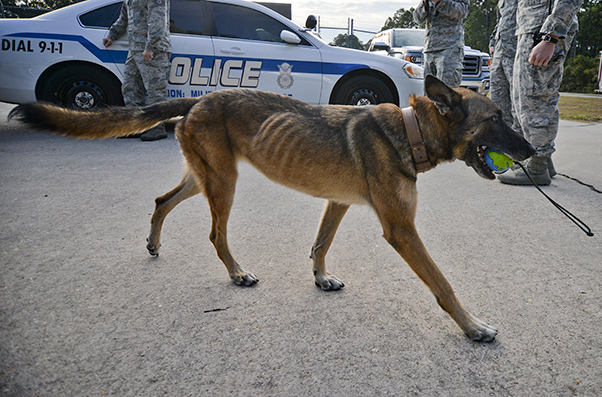 "We went straight to the beach the first day and just ran. Ever since then, I would take her out every day for runs on the beach. We did that for a solid seven months," Metzler said.
Mica's condition would eventually deteriorate and her retirement cut short.
"She is, and always will be, a military working dog. The final patrol was the perfect tribute to her because that's always in her heart," she said. "She's real special, and I was so lucky. She was very beautiful, I'm just happy that she's home."
Mica's former handler, Staff Sgt. Justin J. Paczesny, memorialized his former partner in an emotional social media post.
"My baby girl, three and a half years together side by side. The cancer has taken its toll and she is being taken from this earth far before her time. Best four legged partner a man could ask for. MWD MICA T204 'Princess of Tyndall,' I love you. All dogs go to heaven, especially a Guardian of the Night," he posted.
Surrounded by familiar faces and family members, Mica and Metzler walked down a pathway lined with Airmen rendering the final salute.