NASA announced Oct. 14 that it has awarded commercial spaceline Virgin Galactic a $4.7 million contract for the launch of more than a dozen cutting-edge experimental satellites.
The satellites, which will be selected and provided by NASA, will fly on a test flight of Virgin Galactic's dedicated small satellite launch vehicle, LauncherOne.
NASA's order, which comes through the agency's Venture Class Launch Services program, represents a tangible sign of the space leader's increasing embrace of small satellites as an important means for conducting research and development. Previously, NASA purchased a suborbital flight for a dozen experiments onboard Virgin Galactic's SpaceShipTwo — meaning NASA is now a customer of both of Virgin Galactic's privately-funded space vehicles.
"We are excited to add NASA to our growing list of customers who have signed contracts to launch small satellites onboard LauncherOne," said Virgin Galactic President Steve Isakowitz. "When paired with affordable and responsive launch vehicles like LauncherOne, small satellites create big opportunities for business and for science. We're designing LauncherOne to offer market-leading pricing and flexibility to help our customers make the most of their missions, and we are excited to work with NASA to help our nation's scientists and researchers get their satellites into space."
LauncherOne is designed to provide affordable, reliable, and responsive orbital launches for small satellites. As an air-launched system, LauncherOne can optimize each mission to customer requirements by operating from a variety of launch sites. Virgin Galactic has full, private funding in place for the program, which includes a dedicated and world-class team of 150 experienced aerospace professionals working from a state-of-the-art 150,000 square foot manufacturing and design facility in Long Beach, California.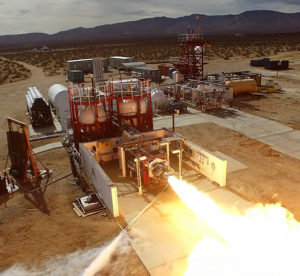 At NASA's announcement event, Virgin Galactic also showed video from a recent 90-second hotfiring of LauncherOne's NewtonThree main rocket engine. The successful test, conducted last week, marked the latest technical success in a program of hardware and component testing that began several years ago.
LauncherOne is designed to provide affordable, reliable, and responsive orbital launches for small satellites. The company announced recently as part of World Business Satellite Week in Paris that for a price below US $10 million, LauncherOne will launch 200 kg into the high altitude Sun-Synchronous Orbits most commonly desired by small satellite missions, a marked increase from the system's originally projected performance to that orbit. Customers will also be able purchase even further increases in performance to the same orbit, as well as launches that reach other altitudes or inclinations.