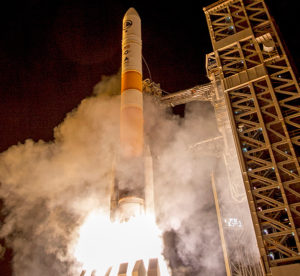 A pillar of orange fire rose into star-spangled, velvet-black skies over Vandenberg Air Force Base, Calif., in the predawn hours of Feb. 10, heralding the deployment of a new National Reconnaissance Office satellite.
United Launch Alliance and the 4th Space Launch Squadron oversaw the liftoff of a Delta IV Medium+ rocket, carrying a classified payload into an unusual retrograde orbit.
In accordance with policy, NRO officials declined to identify the spacecraft, designated NROL-45, or describe its mission, but defense analysts believe it to be a Topaz radar-imaging satellite.
The launch, originally slated for April 15, 2015, slipped several times due to adjustments to the NRO flight manifest, before ultimately being rescheduled for February 2016.
The most unusual characteristic of this mission was the rocket's flight path, southwest against the direction of Earth's rotation. Space launch planners rarely use a retrograde orbit due to the extra velocity and fuel required to go against the planet's natural rotation, but such an orbit is advantageous for Earth-observation spacecraft. This trajectory matches the launches of several previous Future Imagery Architecture Radar satellites.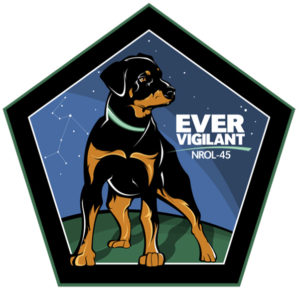 Ted Molczan, a world-renowned expert in satellite observation, noted that the particular Delta IV configuration lofted Feb. 10, has flown only once before and that it also deployed its payload into a southwesterly retrograde orbit. Based on these, and other clues, he was able to identify NROL-45 with a high degree of confidence.
"The payload is FIA Radar 4, [also known as] Topaz 4," Molczan said. He added that the Topaz code name for the FIA Radar spacecraft family was revealed in documents leaked by Edward Snowden. Radar imaging satellites are capable of providing valuable intelligence in both daylight and darkness, regardless of weather, and can penetrate foliage and groundcover.
Air Force officials waited until 90 minutes after liftoff before confirming that the launch had been entirely successful. Col. J. Christopher Moss, 30th Space Wing commander, was the launch decision authority.
"This was an incredibly important launch for the 30th Space Wing and our mission partners," said Moss. "The entire team, which included the 30th Space Wing, the 4th Space Launch Squadron, the National Reconnaissance Office, United Launch Alliance, and numerous other agencies, worked hand-in-hand to ensure this launch was safe and successful. It was a tremendous effort by all involved."